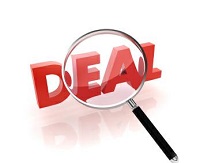 Finding real estate investment properties isn't always easy if you are doing the same old thing – you have to increase your odds by looking in places others aren't looking. Who is more likely to get a cheap fixer-upper, an investor that looks through the MLS listings and calls it a day, or the one that uses TEN resources?
Here are ten tips for finding real estate investment properties.
1. Use the Internet. There are hundreds of websites that post properties for sale by owner or for rent by owner (or both). The obvious one is Craigslist.org, but look for some of the lesser known websites for finding deals. Here is one of my investing quick tip videos on "How to Analyze a Deal in 30 Seconds or Less".
2. Drive Around Looking for "For Sale By Owner" Signs. Owners often test the market with a sign before listing with a real estate broker. Call every FSBO sign you see, and find out the name of the owner from public records and send mailers, too.
3. Find Old "For Rent" Ads. Call if they are a few weeks old (you can find older newspapers at your local library, or start on Craigslist for rent from the oldest date forward). Landlords are often ready to sell, especially if the haven't yet rented the units out. Maybe they had a recent bad experience with an eviction that could motivate them to sell?
4. Find Abandoned Properties. That's a pretty clear sign that the owner doesn't want to deal with the property. He or she might sell cheap. Engage some "bird dogs" to drive around neighborhoods looking for properties that look abandoned – boarded up, grass grown high, and/or in disrepair. Look up the owner's name on the county tax assessor's website and mail them letters and postcards.
5. Old FSBO ads. If you call on two-month-old "For sale By Owner" ads, and they haven't sold, they may be ready to deal. Owners often give up the effort, but still would love to sell. Help them out!
6. Offer Someone a Finder's Fee. There are people that always seem to hear about the good deals. Have such people coming to you with potential leads (Tip: pay by the lead, not by the deal that is closed, otherwise people will stop referring deals to you quickly).
7. Talk to Bankers. You might get a foreclosed-on investment property cheaper if you buy it before they list it with a real estate broker. Small, local, commercial banks are your best bet. They may also be willing to sell you a defaulted mortgage, which you can use to either negotiate a deed in lieu of foreclosure from the owner of the property or foreclose it.
8. Eviction Notices. If you can get the information at the local courthouse, it can be useful. A landlord who just went through the process of evicting tenants is a likely seller, particularly if he or she did the eviction without a lawyer (a sign that they take it personally).

9. Setup a Blog. Real Estate Articles attract people who search for help, and they will find you with the right "keywords." Something as generic as "sell your house fast Dallas" might not get you to the top of the search engines, but listing surrounding cities and suburb names are more targeted to someone who searches those words. You can setup as many free blogs as you like using WordPress.com and Blogspot.com.
10. Talk. Let people know you are looking and sometimes the properties will come to you. There are a lot of owners out there who want to sell, but haven't yet listed their property. Get to them before a broker gets to them to list their property. Everyone within your sphere of personal or business influence should know what business you are in, and they should think of your first when they find a motivated seller.
So there you have TEN more ways of finding investments properties. Now, go get 'em!