So you got the "Ugly House" deal on contract – now what? Rehabbing Properties for Profit requires you work with Contractors and Handymen to get much of the labor done professionally and timely in order for to see a profit from your real estate investment. Now I am going to tell you the next step on what to do once you have put together a list of possible contractors you may want to work with.
As you already know, a good contractor can really make or break your flip, so here's how to make sure that you are choosing the right one for you and your business.
10 Rehabbing Tips For Choosing The Right Contractor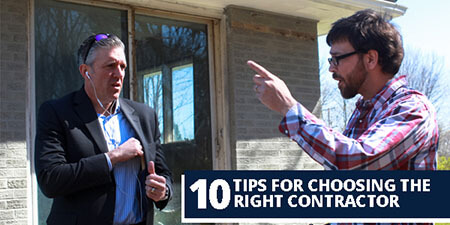 Interview
1. Interview AT LEAST 3 contractors for your job (particularly if you are newer to rehabbing). You should get three different bids from three different contractors and review them based on the research you did on materials and your estimate of what you think the rehab should cost. Make sure the contractors are bidding on the exact same plan – have a Scope of Work they can use to create their bids.
If you have a contractor that you have been working with regularly and have a trusting relationship with, then you can skip this step and just move forward with using them.
Review & Consider All Bids
2. Don't pick the cheapest one just because it's the cheapest. The most expensive bid might not be the one you want to go with either, but it MAY be. If you are planning on doing a big profit rehab, you don't want to skimp on the important things. If the number is too low, chances are the contractor doesn't see your vision for the property and doesn't know what kind of work your plan actually entails.
Verify References / Projects
3. Ask to go see some of their projects. Don't just take their word for it, do not be afraid to ask if you can see a project they are currently working on or recently finished. Is it broom swept? Do they clean up after themselves every day? They should take pride in what they are doing and keep a clean work space even if the property is vacant. It can be a good indicator of how they will treat your project and their employees.
Seeing a completed project of theirs may also help you decide if you think they can see your vision for your project as well.
Materials & Labor Payment Arrangements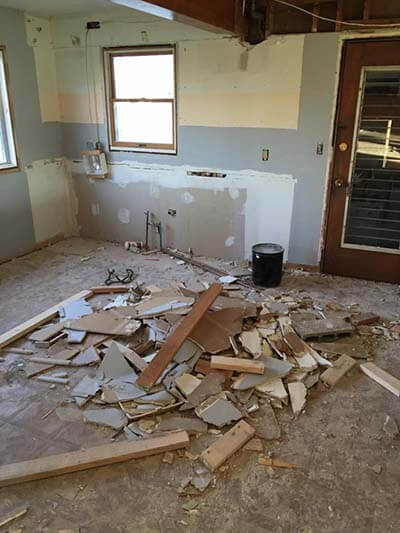 4. Discuss how they handle picking up materials, payment schedules and change orders. Are you going to be responsible for paying for and picking up materials? It's important to know how that will work.
A lot of times, if the contractor picks up materials for you, they may tell you it cost $100 but it only cost $80 so they are making a little extra money – this is NOT acceptable. If they are picking up materials, make sure they submit an invoice or receipt so you can see the exact costs.
Will they want to paid weekly, biweekly or in draws? The only thing I will advise against on this topic is never give them a lump sum up front. It could happen that they take the money and run. It's unfortunate, but it could happen.
Change orders will CRUSH your budget if you aren't careful. An example of this would be if you originally plan for a bathtub in the master bath, then decide you want a steam shower instead. That means more materials and more labor.
Make sure the terms with your contractor are clear on how they handle change orders so there are no surprises on either side. Be conscious that you are not the indecisive homeowner and that you try to stick to your Scope of Work.
Licensed, Insured & Bonded
5. Make sure they are licensed, insured and bonded. They have to be all three – if someone gets injured on the job, you want to make sure they are covered with workman's comp insurance. Make sure you actually see a copy of the insurance if it's your first time working with them.
Bonded means that if they happen to take your money and run without the work being complete, you can take them to court and get your money back.
Scope of Work & Contract
6. Read the Scope of Work, contract and sign. This goes back to making sure you have a detailed Scope of Work in place that your contractor has reviewed and understands. Make sure the timeline and budget is agreed upon and the contract is signed by both you and your contractor.
Pre-payment For Work
7. Don't give any more than 1/3 of the budget up front. We already discussed this previously – if it's your first time working with a contractor, there's no need to give them a lump sum up front. They can start demo on a house without any money at all.
Site Visits & Inspection of Work
8. Check in often on the project to learn what they are doing and why so you are better educated for the next properties. This is especially important if it's your first big rehab project. Watch what they are doing and understand their process and in what order things happen.
Don't ever say, "Well I don't know anything about construction, so I'm just going to let my guy handle it." That is inexcusable. If you want to be in this business, you need to learn and understand all that goes into it or else your contractor and crews will notice and start taking advantage of you. Verify and ask questions on anything you don't understand.
Deadline & Quality Incentives
9. Devise an incentive program for the contractor for work done early or on time. This is optional and something you can do if you feel comfortable. If a job is done on time (rare) or close to it, we sometimes offer a 5 or 10% bonus if it looks great and meets your expectations.
If you aren't comfortable giving them monetary rewards, maybe just provide some pizza and soda lunches on a Friday afternoon to thank for them their hard work. Don't let good work or meeting deadlines go completely unnoticed.
Right Contractor For Rehab
10. Make sure your contractors abilities match the end product that you are trying to produce. If a guy is used to doing $100k houses, he probably isn't the right contractor to be on your $800k flip. And that can work vice versa as well – if a contractor is used to doing only multi-million-dollar high end homes, he probably isn't going to understand why you are putting linoleum in your kitchen and you will get charged higher than you should for it.
Creating a Budget, Schedule & Scope of Work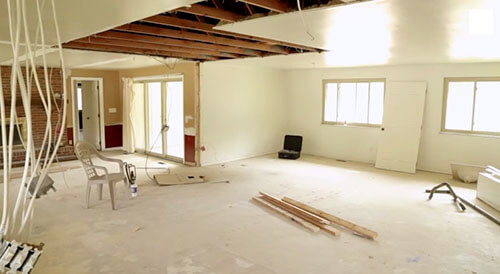 Now that you have chosen your contractor, let's discuss how to put together a Budget, Schedule and Scope of Work. As we mentioned above, it's VERY important that you and your contractor are on the same page for all of this.
Budget
Make sure your budget goes from start to finish from demo to finish work and breaks down each individual cost. This budget should be a written document that you provide your contractor or share with multiple contractors if you are collecting bids. Once you have chosen your contractor for the job, you should both sign off on the budget.
Scope of Work
The Scope of Work tells us what is going to happen each week throughout your rehab step by step. Is it a quick flip, an 8-week plan, 10 week plan, etc.? This will help you know exactly what's going to get done week by week and also help your contractors stick to schedule.
Detailed Schedule
This will tell you exactly what's going to get done each and every week. NEVER start a project with these three important documents. Watch the short training video on "How To Create a Budget,Schedule & Scope of Work for Investors"