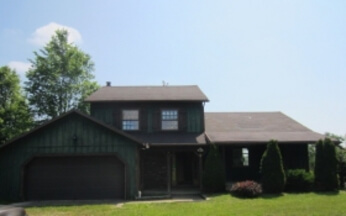 Many people have been asking me on my social media and blog sites – "how I can get all my deals funded with private money and NEVER use any of my own cash or credit". The first thing I tell them is that they must know what the investment alternatives are in today's market.
The stock market has been up and down for what seems like forever, and you need to know that it's averaging about an 8% net return. In real estate, when a private lender lends me money, we can pay them 12% interest or 15% of my profit, whichever is higher. You need to be able to tell your potential private lender what options they have and why your investment is the best.
Rehab Investment Deal Case Study – Ballash Road
Eventually, your goal as a real estate investor should be to build your own personal bank. Once you have case studies of successful flips to show potential investors, the money should start flowing in, no problem.
A few years back, I had a house I was flipping on Ballash Road. How did I find the private lender to fund this deal? He was a real estate agent who had been receiving my newsletter every month. He came to me and said he had $300,000 that he was sitting on currently in a bank account and offered to give us the money in return for 12% interest or 15% of the profit.
My real estate attorney immediately created a note and mortgage.
Imagine this – in one hand is your note, a loan or contract between you and your lender. In your other hand is the property you are interested in flipping. Smack those two together and you get a mortgage.
We bought Ballash for $52,000, rehabbed it for $30,000 and sold it for $142,000 in just 2 weeks!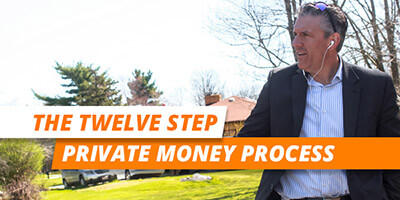 Once you know what the current return on other investments are, you can start following this simple 12 Step Process to have private lenders begging you to use their money on your next project.
1. Create Your Own Project 100
Make a list of 100 prospective private lenders or referrals starting with family ranging all the way to the guy who makes your coffee at Starbucks in the morning. Don't count anyone out!
2. Make a Second List
This time, write down all the places you can go to meet potential investors and partners – from the obvious places like your local REIA Club meetings to the not so obvious places like the gym or local grocery store.
3. Open Your Mouth:
You have to talk about it! Tell everyone in your family, all your friends and anyone you can come across on a regular basis what you do. Nine times out of ten, they will be interested and have questions for you to learn more about the opportunities you offer. You want to be everyone's top of mind reference when it comes to real estate.
4. Create Your Money Magnet Pitch Book & Marketing Collateral
Get a three-ring binder and fill it important documents you'll need to share with a potential private lender.
5. Develop a System for Tracking Your Private Lenders
Invest in a CRM database. I use Infusionsoft, but you can also use Google docs or an Excel spreadsheet if you can't afford to pay for a service.
6. Send Out a Monthly Physical Mailer
Remember, marketing is sales in print. You want to be the top of mind real estate reference to your network, so sending a monthly reminder mailer will help with this.
7. Email "Deal of the Week"
We send out a Funding Opportunity email every Monday to our network to showcase our newest funding opportunities and what we're working on.
8. Follow-up with a Phone Call
4-6 days after the physical mailer hits the addresses.
9. Set-up an Appointment
Face-to-face appointments are crucial to this business. Set your meetings at a local coffee shop or sit in the bar of a high-end restaurant for happy hour, depending on what time of day you're meeting.
10. Hold Money Magnet Meetings
This will be education based selling. Walk your potential private lender through your Money Magnet pitch book you created.
11. Follow-Up
This usually includes answering any FAQ's your potential private lender may have.
12. Gain Commitment
Once you gain their trust, you can start the rollover process of the IRA, locate a good deal and make offers and have a real estate agent craft a sample note and mortgage with your name on it so they can see what the paperwork will shape up to look like.
If you have done your homework, understand the investment options and know your market, you should have no problem pitching your real estate investment options to potential private lenders. I've included below a great short real estate investing video to help your further attract more private money for your rehab investment property deals.