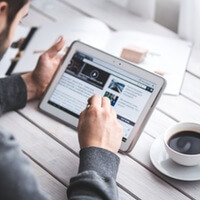 Students, investors, associates and friends favorite question that comes up in dinner conversation is "Lex, How Do You Find Properties"
We buy properties from sellers via direct mail marketing, mailing letters, billboards, bandit signs, lead capture pages, our website, seller websites, foreclosure websites, Google Pay Per Click, Facebook Advertising and many other mediums.
>>>>> But by far the easiest way to search for properties is online. <<<<<
When I have a few minutes to spare before a meeting a webinar or a conference call I will often pop on to one of the online real estate websites looking for a property that would be a good deal to make an offer on.
So to answer my most commonly asked questions I put together a quick list showing you some of the sites that I frequent on a daily basis while searching for properties.
This list is not all inclusive. These are some of the bigger more well know sites.
15 REAL ESTATE WEB SITES & ONLINE AUCTION SITES
Be prepared, do your research and then move forward if the property makes sense, fits your long term goals and you know and have a clearly defined exit strategy. Use my 7 Tips for Investing In Distressed Real Estate to help you with your due diligence and research and then be ready to take action. Take your time, do your research and make sure your numbers work.