Understanding how to fund a deal is as crucial as finding it in the first place, and funding real estate investments continues to be a major challenge.
It may be simply because investors are not aware of the numerous financing avenues that exist. There is a big misconception that you need a lot of money to invest in real estate which is not accurate. Different ways exist that you can use to fund your investment.
It is important to note that each has its pros and cons. Depending on your situation and the property you want to invest in, here are 5 financing options for you can use to secure your deal.
5 Ways To Fund Real Estate Investments
Equity Partnership
For equity partners to undertake real estate investments, funding means they get an ownership percentage in the property. Equity partnership is commonly used in long-term projects or those that cannot sustain higher interest rates that debt partners require upfront.
Equity partners will be able to participate in every aspect of property ownership. If a property makes money, the higher the returns for them but if it generates losses, they have to put in more money.
Return on investment for a partner is in the form of cash flows, loan pay down, appreciation, and depreciation. Equity partnership is a high risk investment as the only protection of investment is from cash flows. Mortgages and promissory notes do not apply.
Asset Based Lending
Asset-based loans are the ultimate blessing for real estate investment funding. Credit issues and cash flow problems take the back seat in this kind of arrangement. To expand your portfolio, you often need to purchase or build more real estate.
Asset-based lending helps you to expand where other methods have failed.
This is because, like hard money lending, all loans are written and approved based on the real estate property asset and not on your personal financial history.
Consider this kind of financing especially when you want swift growth or quick turnaround. This kind of lending:
Does not involve your business capital
Is very reliable
Has short and prompt processing
Raises no credit issues
Requires no guarantee as your property is guarantee enough
Has lower interest rates because of available security
Is less risky
Crowsourcing
Funding real estate investments in this way means tapping into online finance sources. It is a new way that has gained traction because people outside traditional investor and lender groups finally have a jab at investing in real estate. Owners of funds and those who need them come together in an online platform. Advancements in technology and legislation have made crowdsourcing a viable option. It has several advantages:
It is easy to get funds without requirements like accreditation
Initial investment can be as small as $5000
A wide choice of investments
It is considered a high risk source as there is no guarantee on these kinds of funds.
Bank Financing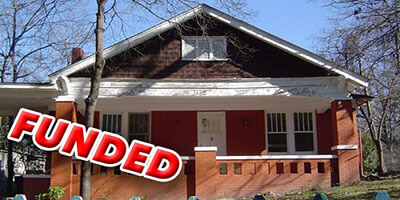 Commercial banks offer funding in the form of loans. A bank's main focus is on the property's success, so the amount of revenue that a property will generate is very important to them. For example, you own a 5 million dollar apartment that you should be paying mortgage of $500,000 on in a year. If it so happens that your income averages $200,000 per year, you will not be able to make repayments.
Regardless of your ability to pay, a lender will still have to look at your personal finance indicators like credit worthiness and income.
Apart from long-term funding, banks also extend a business line of credit. This line of credit is especially good for house flippers or any other person who needs uninterrupted flow of funds/ cash in hand. It is a short term arrangement with your bank.
Bank loans are defined by high interest rates, short term repayment, and numerous qualifying standards. However, they are a secure source of financing.
Hard Money Loan
Funding by hard money loan is most popular among real estate investors whose aim is to develop or renovate property for sale. Loans are issued by private lenders whose main concern is the final value or after repair value (ARV) of a property. Hard money loans are characterized by:
Loan is given based on property value
Short term repayment periods (6-36 months)
Higher than usual interest rates sometimes up to 15%
Bigger fee/ loan points to obtain a loan
No credit worthiness requirements
Funding can be obtained on short notice
Compared to a mortgage bank loan, hard money loan is preferred because it eliminates the red tape for borrowing. Convenience and flexibility of terms are some pros of hard money loans. However, you need to utilize these loans carefully because of costs and limited repayment periods.
Always be on the lookout for creative ways to grow your real estate portfolio!