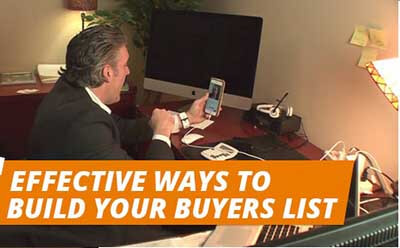 So you found a steal of a deal property and got it under contract, so now what? If this isn't your first real estate rodeo, then you probably have a solid buyer's list put together, but what if you don't?
It's time to put in a little extra work and get one together so you can get your property unloaded quickly and painlessly. Whether you plan to rehab or wholesale, you'll need to build a buyers list. Your buyers list will be made up of the investors to whom you'll sell properties.
If you are serious about becoming a real estate investor, selling properties is something you will need to do over and over again, so building your buyer's list is KEY.
5 Strategies To Build Your Investor Buyer's List
Let's dive into the different ways that we have built our buyer's list over the years.
1. Networking
If you are newer to real estate investing, you should be grabbing lunch or coffee with other real estate investors in your market regularly. Trust me, you will want to do business with people you have a relationship with and trust.
Start by Googling "We buy houses in *insert city*" to find wholesalers advertising properties, rehabbing properties and local REI networking groups. You can also search Craigslist for wholesaler ads and properties they are selling.
A mistake you want to avoid making is calling up an experienced real estate investor and reading off of a script to try and get their buying criteria. They will know you are a newbie and it's an immediate turn off. Instead, I would be completely honest and introduce yourself, say that you are new to the business or the area and see if they would like to grab coffee and talk about business. I love being able to help a newbie and offer them advice about what's working in our market. You never know what kind of great deals they can offer you in the future.
2. MLS Cash Sales
Have your realtor pull you a list of recent cash sales (the past 30-90 days), then take all of the sales near your property and look up who owns them. You can usually find them on your county's tax assessor website. Once you have the owners name, use a resource like TLO.com to look up their contact information.
Give them a call and say something like, 'Hey, I noticed you recently purchased a property at 1234 Main Street, I was wondering if you are looking for purchase more?" Then tell them about your property and see if they might be interested in purchasing it. You could also go to the property they purchased if you know it's a rehab project and see if they are there to chat or leave them a note.
3. Local REIA
Google the local REAI club in your area. This ties in with networking as well, go to a your REAI meeting and see if anyone would be interested in buying a property for $x.xx in your area. You can ask for buyer and wholesaler referrals. Once you figure out who the big players are at your local REAI Club, be social with them and make sure to work on building relationships.
4. Bandit Signs
Bandit signs are signs around your area that you might see off a freeway exit or on a busy street corner. You might not think so, but these signs get phone calls, especially for wholesale deals. "House for Sale" signs with directional arrows would get a lot of traffic to the property.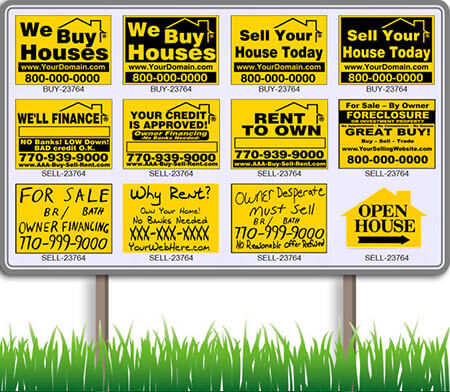 5. Online Marketing
Create a squeeze page where a buyer can opt in and put in their name, phone number and email address so they can get on your buyer's list. I use Freedomsoft to create mine.
Putting out content about yourself and your business is KEY. A YouTube channel is a great place to start. Post virtual tours/walkthroughs of your potential properties you need to unload. Make sure to include a call to action on how people can get in contact with you if they are interested in learning more about the property.
Facebook is also a great place to market your properties and your business.
As you can see, building a buyers list is crucial to your success because it's all about numbers. If you wholesale or rehab fifty properties a year and average $10,000 per deal, how much profit would that be? I would take a wild guess and say it's more than most of you are making today.
If you use your knowledge and your motivation, the money will come.
Notice A Trend?
You may have noticed a trend here within the networking and relationship building. This is incredibly important. When you're just starting it, it's normal to feel hesitant or shy, but you have to work on coming out of your shell. It's something you will need to get good at because you will need to work on these relationships in order to keep getting paid.
The truth is, real estate investing requires a lot of marketing and self-promotion. You are basically in sales and the best real estate investors are masters of selling.