I was looking up ugly, abandoned homes in the Southwest region and ran across this gem. Leif Swanson, spotted this deal a few years ago. Located in West Phoenix – this investment property has 3 bedrooms, 2 bathrooms, 1656 square feet of living space and a one car garage.  Built in 1959 – it sold for $213,00 in 2006.  Fast forward a few years it was listed again as a foreclosure home for $39,000  – it became so "distressed" that you could see and smell the neglect through the internet.  Why the  the almost $175K drop? Take a look:
Ugly House Real Estate Investment Deal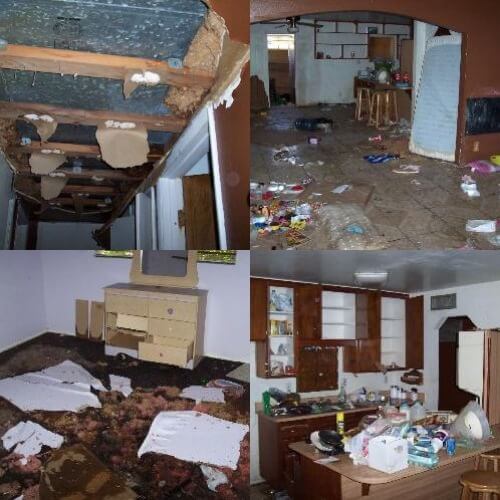 What you are looking at here is the Kitchen, Bedroom, Living room and Hallway in the interior of the home. The ceiling came down and leaked water throughout the house. Can you imagine the smell? It does not get better – see for your self below: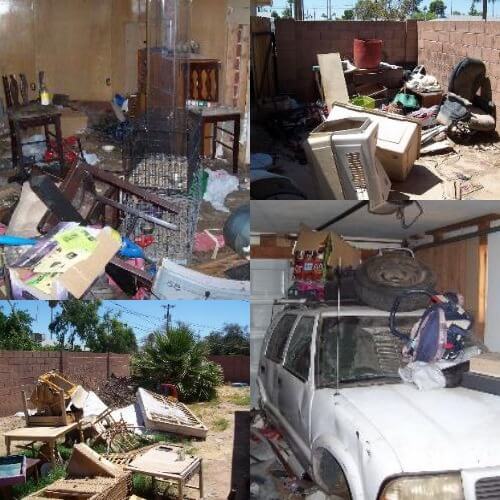 The garage had zero space to walk, they added an enclosed patio that was infested with bugs and animals, and all the yards were riddled with trash and large junk. I know what your thinking: "GOOD HEAVENS THAT'S NASTY" – I thought the same thing at first.  Then I started to see OPPORTUNITY. 
The water leak and damage plus mold remediation would cost thousands, estimated by Lief.  The exterior roof looked in need of repair as well.  Factor in the MAJOR trash clean-up and sanitation services required as well in your estimated budget.  I'm thinking the cost will be greater than the $39K foreclosure list price.
And there is the pain of dealing with foreclosures as a wholesaler if you planned on assigning this deal. Did you know that some foreclosures place a hold/restriction on how soon you can transfer or sell property that you bought via hud or auction?  Did you also know that banks are reluctant to price reductions or closing credits? Luckily for you – REIClub – found a few creative ways to deal with these problems.
Creative Real Estate Investing Solutions:
Here are some free short and informative real estate investing training videos to help you deal & negotiate successfully distressed investment properties and foreclosure listings:
Wholesaling – Buyer Addendum Closing Trick
How to Influence Broker Price Opinions (BPOs)
So are ugly houses really a good investment deal – ABSOLUTELY! Especially if you are using creative real estate investing strategies, conducting due diligence and have the right contracts.