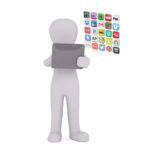 Searching for a real estate investing deal used to consist of driving around certain areas you have enjoyed or communicating directly with real estate agents and having them decide which homes best fits your needs. Today, you have multiple resources available to you that will leave the power for deciding in your hands, as you sift through the various properties available on the internet.
While finding the correct property may involve hours of researching a multitude of factors, there are many tools that are free for you to use in order to save you time and money. In order to hone your ability of finding a real estate investment deal, here is a list of the three best (free) tools you can use to find the right properties:
Zillow has an extensive database of homes for sale by real estate agents, by owners, and homes that are coming to the market soon. With their handy estimation tool, Zestimates, the homes within your budgets are easy to identify among the various regions you find of interest. The filtering ability of Zillow can be your main tool as you begin to narrow your search for the right property. Certain listings are easy to identify with Zillow's interface and the information available to the consumer. However, what you get in the sheer number of homes listed on Zillow, you will miss out on certain details that some of the other sites offer, especially area statistics.
Similar to Zillow, Realtor.com offers numerous housing and property listings in areas across the country. What sets realtor.com apart from other sites is the fast, updated information. The listings for realtor.com update about every 15 minutes to give the user an up to date picture of the property sales that day. The biggest issue with realtor.com is the lack of information about each property compared to the other two sites mentioned in this blog article.
If you are interested in building a portfolio of properties in a certain area, be sure to check out Truila.com. Trulia.com offers the most in-depth picture of the areas that each property is listed in. Crime statistics, the level of schools' performance and the sales around the region you are looking is just the beginning of the amount of data available to you on Trulia.com. The site offers so much detail that it even provides the probability of a natural disaster including earthquakes and hurricanes.
With the free tools listed above, you can narrow down your search for the type of property you are looking for in a fraction of the time compared to traditional property-searching methods.