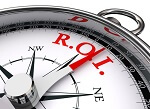 Like most investments, the best return on investment in real estate typically comes from assets that either require more risk or require more work. While a stabilized Class A apartment building in Southern California might offer anywhere from a 4 to 6 percent leveraged year-one return, other investments can offer 30 to 100 percent returns.
The secret to getting the best return on investment in real estate is to focus on creating equity. Given that large gap between the cost of most California property and the rent that it generates, it is very hard to take an at-market property and generate a high cash flow return from it. However, California's high real estate prices allow investors to add considerable value for relatively little work.
One example of this is a distressed single family residence. A turnkey property that is being sold by a bank that requires an all-cash buyer has a relatively limited buyer pool. Being able to buy that property and turn around and relist it for a conventional buyer that needs to go through the usual process to get a mortgage can yield profits of anywhere from 5 to 50 percent. An investor that can use private money for leverage can increase his profits even more by having access to leverage that doesn't need to go through a bank lending process.
Single family residences that need work — whether they are cosmetic or structural fixer uppers — also provide some of the best return on investment metrics in the real estate industry. While you may have to spend more money to acquire and prepare them for sale, the markup on your work is more than enough to compensate you. Furthermore, some private lenders will provide construction financing that also gives you an opportunity to increase your returns.
There are other types of assets that offer a great return on investment, as well. Land bought properly can generate three and four digit returns with some luck and vacant commercial properties can also go up in value significantly if you can find a tenant. Both of these property types typically require additional investment and can take months or years to sell. With this in mind, in today's market residential properties typically provide the best return on investment, all things considered.