According to Yahoo Finance: "Today's buyers are using websites and mobile apps at an ever-increasing pace to find their potential purchases. They are also moving faster, buying in an average 10 weeks. The median time on the market for recently sold homes stayed at four weeks for the second-straight year." What does that mean for investors in particular – Wholesale & Rehab real estate investors?
It means that you need to get relevant information to end buyers and other investors quickly in an easy to disgest format. The simplest way to market or pass of information about a killer real estate deal is using a Proforma Form or Datasheet. A Proforma will have all of the deal numbers easily displayed. Here is a example:
Real Estate Deal Proforma Data Sheet Example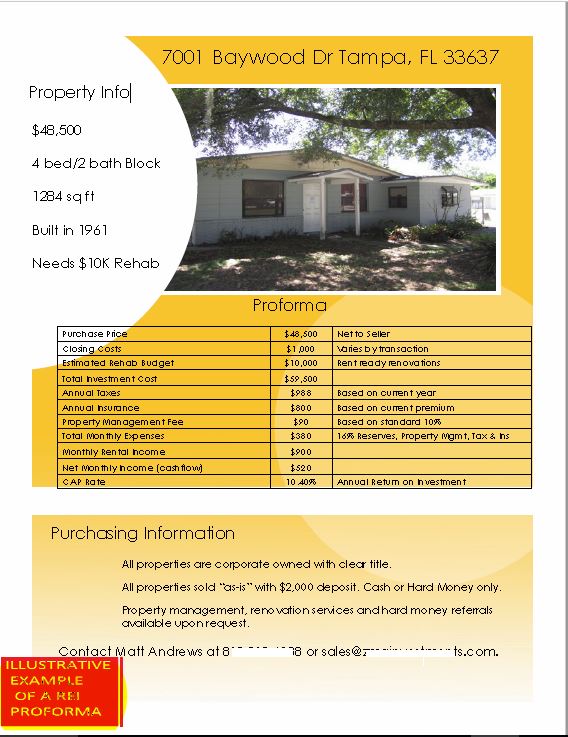 Using a Proforma Data Sheet on Craigslist, Facebook and to communicate with your buyers list is an effective way to get all the pertainent informationand deal numbers to potential buyers and investors quickly & easily.
Real estate investors who are looking to buy low, cash flow big, and eventually sell high – will appreciate you taking the time to calculate all the deal numbers for them. All they have to do is make a quick decision either buy or pass.
Matt Andrews Bio
Matt Andrews has bought, renovated, & sold hundreds of investment properties throughout the country. He is one of the most active and dynamic leaders in the Real Estate Investing world today.