Real Estate Agents and Investor-Agents – blocking out some time every week to preview "propertunities" is a good practice if you want to become and stay a market expert. I think you'd agree that now is a great time to be putting out more opportunites to stay connected with potential buyers and keep up to date with the rapidly changing real estate market.
Sending an email like the one below allows you to leverage your time better. Not only will you be seeing some more inventory, but you'll also be getting belly to belly with the few people – think clients and investors- who raise there hands and ask for details about the tour.
And even if people aren't available on a Saturday morning, what typically happens is that those who are interested will reply and ask you to let them know about the next time you're doing a tour.
Of course, these cases are just opportunities for you to schedule 1 on 1 appointments, which is also a good thing 🙂
Here's an email copy that you can swipe that has been succesful for me. You can send to your real estate database tomorrow, and get immediate results typically.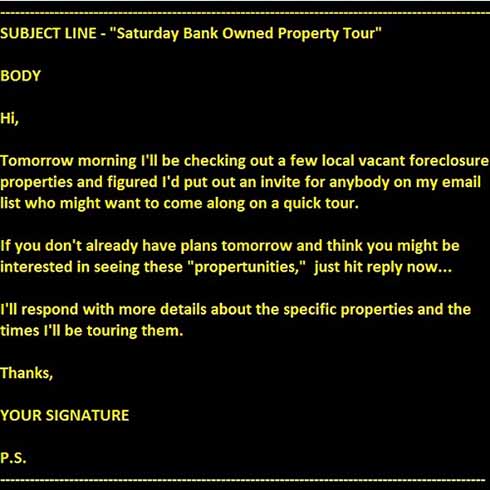 Good luck, and be sure to let us know if you have any positive results.