There are essentially five types of investors, four of these are broke. Which one are you?
5 Types of Real Estate Investors
The 'Dabbler', who does just that. He may read a few books and go to some seminars; he may even go look at properties and consider buying one. Real Estate Investment interests the Dabbler, but he cannot commit to taking action.
The 'Economy Victim' has been disappointed or is unsure of his job stability or growth potential at his current J-O-B, and knows the time has come to take his future into his own hands. The Economy Victim sees the opportunity in Real Estate Investing, but does not know how to proceed.
The 'Cash Flow Flop', is an investor who may have started by snapping up several "income properties" by putting large sums of his own cash and time into down payments and repairs, only to have very little cash flow each month. The Cash Flow Flop now finds himself tired of the hassles that accompany unreliable tenants, costly maintenance, and lowered cash value on his properties.
The 'The Perpetual Bird Dog' struggles to earn a living by not fully realizing his true potential. The Perpetual Bird Dog continually wastes time and money by submitting good deals to other investors that don't ever get completed for one reason or another. He has no control over the transaction and then gets frustrated when he cannot build wealth.
Finally, there is The 'Rich Real Estate Investor', who does not have to deal with any of these problems!!
RE Investor Tool Kit For Success
There are countless programs being sold today that do little more than provide you with vague, general information. You must have several tools in your Real Estate Investor Toolbox in order to fix the problems and opportunities you Come across.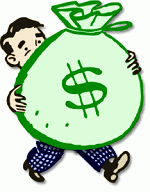 Let me ask – If you purchased a property for investment purposes, how could you make money after you bought it?
You could rent the property.
You could sell the property.
You could lease-option the property.
You could owner finance the property.
Is there anything else you could do? There are NO other possible solutions!
So how in the world are you making money in real estate if you are focused on late night TV shows that are trying to sell you "The Next Big Thing" like: Tax Liens, Foreclosures, Short Sales, Probate, or Bank Owned Properties and you are not focused on the 4 Essential Methods mentioned above that you need to profit in this business?
As you will figure out, you don't need to learn a gazillion real estate definitions or study complicated moving parts or buy programs that cost $30,000.
Become a Rich Real Estate Investor Not A Broke One
Controlling (not owning) property is by far the simplest and most cost effective way to get money in your bank account fast! If you really want to become financially free, quit your day job, have more time for you and your family then you need to start taking control of your future and follow the path of The Rich Real Estate Investor!
If you quick turn, wholesale a property, sell a note, assign an mortgage you will be able to control the property and profit from these real estate transactions.
Benefits of The Rich Real Estate Investor
No Credit Needed – Because you don't take title to any properties, you can do as many deals as you want and never run out of credit. It's like a credit line with NO LIMITS!!
Little to No Money Needed – You are not making down payments because you are not buying the property. Just keep finding deals, quick turn them and keep cashing checks!
Controlling Real Estate – is far more profitable than owning real estate. Ownership can be very limiting : property taxes, liability for almost everything that could go wrong, cleanup liability, carrying costs, etc.
Larger Buyers Pool – Means you have a shorter sales cycle so you can start making money in as little as 30 Days, not months!
No Money + No Credit + Control = NO RISK!
I don't know about you, but as soon as someone explained to me that I could control property and I didn't have to use any money or go to a bank and beg for a loan, there was no stopping me.
That's all I needed to hear. Now you are having that same moment I did 13 years ago, and pretty soon everything will just "click" for you. You will have no more excuses to make money and live the life you've always dreamed of. I was once told, "You can either make money or excuses, but you can't make both".