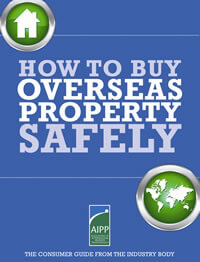 When you're buying a property back home, your local real estate agent will tell you what you should pay for the property. They'll base that on list prices for the neighborhood, the prices that properties sold for in the previous six or twelve months, the condition of the property and current market trends. From that, the agent will calculate fair market value for the property you're buying.
You can also check a lot of this information yourself, using a combination of multiple listing websites and sites like Zillow.
Needless to say, you should also do this when you're buying overseas. But there's one big problem. How do you run comparables when you've got nothing to compare?
There's usually no multiple listing service overseas. There's no website where you can key in your zip code and see a list of prices achieved for properties sold, either. The price a property sold for is private, not public information, shared between the buyer and seller, their respective attorneys and real estate agents. So how do you calculate fair market value?
7 Tips For Estimating Value Of International Property
Tip #1. Do Your Research
Most countries will have some kind of property website where sellers, agents, and developers post ads. They're a good way to figure out average list prices in the neighborhood you're looking at. You can also check local newspapers. Its worth talking to any locals you meet, too—you may find someone that follows the real estate market and who will share some of their knowledge.
Your real estate agent can help, of course. But so can your attorney. If they specialize in property transactions, they may have data on sale prices.
Even if you don't want a mortgage, it's worth talking to a local bank. They'll tell you their maximum LTV in the neighborhood you're looking at and their cap—the maximum price per square foot they'll base the loan on. Find out if that cap has gone up or down significantly in recent years. That gives you a good indication of the state of the market, if it's going up or going down.
A large part of my job is research. It takes up a big chunk of my time but it pays off. Of course, as a Pathfinder reader, you benefit from all that research. It cuts out the legwork for you and takes you straight to the best deals.
Tip #2. The More, the Merrier
The only way you'll get any kind of idea of local property values is to see as many properties as you can. For each property, calculate the price per square foot. You can rule out the outliers—properties with inflated asking prices or "underpriced" wrecks that need demolishing—and arrive at an average price per square foot for your neighborhood. You won't get any idea of average prices if you only see two or three properties.
I've built up knowledge of ballpark pricing in dozens of different locations by squeezing in as many viewings as possible into each scouting trip. It's hectic but worth the effort to gain as accurate a picture as possible of local market pricing.
Tip #3. Find a Seller that Wants to Sell
A motivated seller is more open to negotiation on price. And he's likely to list somewhere close to fair market value. In Latin America, you'll come across plenty of sellers who don't need or want to sell. But they list their property way over fair market value—and they'll sell if they find a sucker who'll pay their padded asking price.
I've seen this myself countless times. The key to finding a motivated seller is asking the real estate agent if the owner of the property needs to sell, if they're open to negotiation and how long the property has been on the market.
Tip #4. Investigate Sales Data
I've spoken with sellers of a large land parcel who told me their asking price was based on a piece of land that sold a few weeks earlier in the same area. I asked for more details and got busy sleuthing. They were selling more than 7,000 acres of land, with no roads or water source, miles from the closest power supply. The piece of land that had sold was in a gated community with power and roads and water, a community clubhouse and pool. It was only a quarter-acre. The sellers I was dealing with used the price for that quarter-acre to get a price per acre and then multiplied it 7,000 times. I explained to them that's not how it works.
The sellers aren't alone in this. I've met countless sellers who don't really understand the market or what their property is actually worth. That brings me to tip number five.
Tip #5. Compare Like with Like
Every time I write about a luxury beach house, someone will e-mail me to say that they can buy a home much, much cheaper than that. But they compare the luxury beach house with a tumbledown shack in a run-down inner-city zone somewhere like Detroit.
You need to compare condos with condos, raw land with raw land, ocean-view homes with ocean-view homes. There's a world of difference price-wise between a 10-year-old condo with no views and a tired kitchen and a brand-new condo with high-end finishes, a view of the beach and amenities like a pool and gym.
As I scout so much, I get the privilege of comparing similar properties in different neighborhoods and different country locations. I can also compare them to prices for similar property across different countries. That gives me a unique perspective for analyzing real estate values.
Tip #6. Use More than One Agent
In Latin America, two brokers covering the same area may have two completely different sets of listings. Remember, there's no Multiple Listing Service. Plus, it helps to get input from different agents. One agent's take on the market may differ radically from another's.
I usually contact several agents before I go on a scouting trip, meet with them in-country and then pick the best one to work with.
Tip #7. Use a Local Real Estate Agent
I regularly see ads for real estate agents pushing a particular location in Colombia or Panama or Costa Rica. But these agents are based out of Miami or New York. I prefer agents with a strong local connection. They've usually got more in-depth knowledge of local market history, dynamics, and pricing. And if things don't go to plan, they're more likely to try and fix the problem instead of shrugging their shoulders and getting on the next flight back to Miami. I prefer to use agents with local connections when I'm scouting, and you should, too.
Working out fair market value is essential. With a little homework, you can figure it out and bag your overseas home without paying more than it's worth.