Two of the easiest & quickest ways to get your wholesale deals flipped or snap a great deal on a property is to work with:
Cash Buyers

Motivated Sellers
Free Find Cash Buyers & Motivated Sellers  Real  Estate Investing Book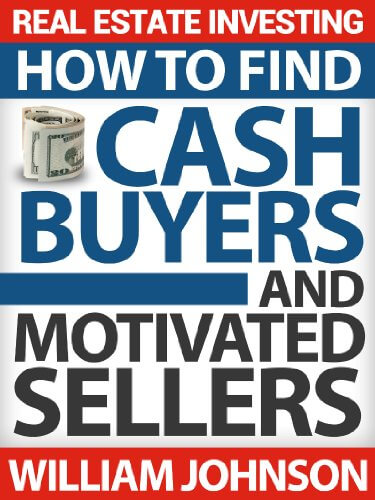 Pick this book to get educated on cash buyers and motivated sellers for your real estate investing. It teaches real estate investors how to define and target ideal cash buyers and motivated sellers. Ebook covers absentee owners, rehab investors, Section 8 landlords, and other buyer types. Some of the marketing topics include mailing lists, postcards, both online and offline marketing strategies along with examples.

Just click on the book cover for easy Amazon Download
Why Are Cash Buyers So Important?
Well if you are flipping or wholesaling property having a cash buyer lined up for a deal will ensure that you:
Minimize your out of pocket expenses (holding costs, down payments, closing fees)

Minimize paper work needed to close at a Title Company

Close quickly – usually 5-10 days
What is the Big Deal with Motivated Sellers?
Motivated Sellers = Discounted Property. Real Estate Investors should aim to work with a motivated seller. A Motivated Seller is an owner who wants to close on the sa~le of their property quickly and easily.   If a seller is motivated they are willing to provide you the discounts needed to provide you a property where you can either sell quickly for a profit (flip) or cash flow at a profit (buy and hold).
Motivated Sellers are also open to creative real estate investing if they have investment property that is distressed, under heavy debt or if they simply just want to walk away.
Friday Free Download – Find Cash Buyers & Motivated Sellers
Download this free real estate investing Amazon ebook to either your iPhone, Android, Computer or tablet and start employing some of the strategies for finding cash buyers & motivated sellers over the weekend. Click this link to take you straight to the FREE Find Cash Buyers & Motivated Sellers investing book.