Did you know that most cities have code enforcement officers?  According to eHow.com, the general duties of a code enforcement officer deals with the basic housing, development and zoning code enforcement issues. Such as zoning violations, structure safety and business licensing. Public safety and health issues involving waste-water, trash disposal and other general environmental concerns are monitored by code enforcement officers as well.
What Are Code Violations?
City and county governments have minimum standards for housing that include safety, sanitation and suitability.  When a code enforcement officer or housing inspector finds a property that does not meet these minimum standards it will be tagged with a code violation.  There are various levels of code offenses & violations with the most severe being building condemnation.
How Do You Know A Property Has Violations?
When a property has code violations or it is condemned  an officer will typically place a  large yellow, orange or red sign attached to the front door and front window.  If you are driving for deals keep an eye out for properties that have been slapped with tags. Here are a few examples: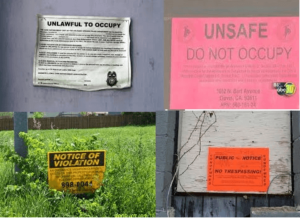 Properties can be tagged with violations for being unsafe, an eye sore, open to the public(gangs/drug addicts), an exposed roof or failure to pay taxes/fines.  Code violations can also be for minor issues such as high grass, excessive trash in the yard or even a car that is not registered sitting in the driveway.  The code violation must be addressed or the homeowner will face receive a fine and may have to go to court to settle the issue.
Code Violations = Motivated Seller
So why and how is that code violations are important to some real estate investors?  Property owners who have code violations become are motivated sellers especially if they don't want to pay or have the means to pay the fines. It could be a simply matter not being able to afford to keep up the with necessary repairs & maintenance.
So when you are driving looking for real estate investment deals – you can use the  violation tags illustrated above to easily spot distressed property and/or distressed owners open to you making potential offers on their homes.
How To Find Code Violations List
Easy – plan a visit to the city or county offices where the property is located and request it. Some localities have a list they will gladly share since it is public records.  In Bastrop County, TX they have a list of "lots" that they slap with code violations for high-grass, junk cars or mobile homes left unattended.  Generally, violations are part of public records and the localities can not refuse to provide them to you.
It would not hurt to get friendly with the local code enforcement office. They can give you the "heads up" on recent violators, zoning changes or neglected property.
How To Contact Owners
You can generally find the owners name & mailing address online in the tax assessor's records just by putting in the property address. Or it will be on the list you were provided by the municipality.
Next step —> Contact the owners via phone & direct mail.
If you find a listed contact telephone number -give them a call first. Introduce you self as a investor willing to help with the code violations problem and take it from there.
The very next best thing is to create marketing letter or postcard specifically for code violations distressed property and distressed owners.  Here is a great free real estate investing resource video that gives you 8 Tips To Sending Out Successful Direct Mail Campaigns.
Hope this real estate investing blog article reaches you & teaches you a new technique to be successful in your real estate investing.