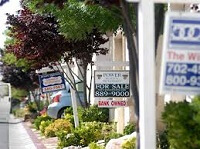 Finding a good real estate deal is as difficult as finding the proverbial needle in the haystack. If you pay attention to detail, do your homework and use the sources in this article, you can find a good real estate investment deal.You might have to look at 100 deals and negotiate on 10 deals to buy one, but you can find good deals, especially in this great buyers market. Spending time looking at a lot of deals is necessary because not every deal that comes across your desk is a good real estate investing deal. Even if the deal meets your investment criteria and you begin negotiating, there is no guarantee that you will end up with the property. The seller may be negotiating with another buyer and take their offer, or you may not want the deal after further research.Here are some places to look for the "perfect" real estate deal that may meet your investment criteria:
1. Real Estate Brokers: Since real estate brokers are in the business of selling property and a major source of deal flow, you should start building relationships with many brokers and agents in the area you want to invest. Make sure the brokers you work with specialize in the types of properties that are on your investment criteria list. Be persistent in following up and staying in touch with these brokers. The really good deals come from off market deals that are not listed so you want to be on the list of buyers they call first.
2. Loopnet.com: This website is a property listing source of properties that are for sale nationwide. You can drill down on the type of property that fits your investment criteria. This is another good way to meet real estate brokers as they typically have the listing on Loopnet.com.
3. Drive the Marketplace: A couple times a week for an hour or two, you should drive the submarket you are interested in and search for properties that meet your investment criteria. Write down the name and address of the property. Contact a title company or local county records to obtain the contact information of the property owner. Send them a letter inquiring on their potential interest in selling their property. This is a great way of finding good deals that are off market.
4. Local Newspapers/Websites: Many property owners advertise their properties for sale in the local newspaper. Regularly, review the real estate section of the local newspaper to find potential properties for sale. I've found many deals this way and they turned out to be big winners.
5. Send Letters to Property Owners: Get a list of property owners in your area that meet your target market and send them a letter inquiring on their potential interest in selling their property. Make sure to include your contact information so that they can call you.
6. Send Flyers to Property Owners: Send a flyer that lists your investment criteria to all real estate brokers and agents in your marketplace. Send this flyer at least once a month to stay in front of this source.
7. Contact Property Management Companies: Since management is their game, property management companies are a good source of leads on who is looking to sell their property. They can be incentivized by getting a real estate commission (seller would pay) and keeping management of the property upon sale.
8. Get Leads From Real Estate Investment Clubs: Many real estate investment clubs offer an exchange for its members who want to buy or sell property. There are many investors tired of being a landlord and need to sell their property. Attend one or more real estate investment clubs searching for leads to buy a property.
9. Lending Institutions: Many lending institutions have foreclosed properties (REO) that are for sale. Typically, these properties are listed with local real estate brokers. Contact your local banks and ask for their REO department. This is a good way to find the top agent dealing with most of the REO's.
10. Subscribe to Foreclosure Service: There are foreclosure services that list properties in foreclosure. You pay for this service to get a list of properties in foreclosure. Contact the property owners on this list and inquire on their interest of selling.
11. Contact Local Vendors: There are many vendors that service properties such as carpet cleaners, landscapers, painters, plumbers, and many more. These vendors know which properties are paying their invoices late. Find out these properties and contact the property owners. They may be having trouble and may want o sell.
12. Search the County Records for Code Violations: There are many properties that are violating planning and environmental codes that are being poorly operated. Find out the properties and contact the property owners.
13. Place Property Want Ads: Create an ad that briefly describes your investment criteria and contact information and place an ad in the local newspaper or on the internet.
14. Use Bird Dogs: A bird dog is someone who comes into frequent contact with problem properties. A tenant, neighbor, mail carrier, trash collector, delivery truck drivers, repairmen, and such are good bird dog candidates. Tell these types of people you are looking for problem properties and that you will pay them a finder's fee for information (ie: $500).Even though you have established a solid network of resources, there is no guarantee that real estate deals will come quickly and easily. Do not get frustrated. It takes time for the seeds you planted to produce fruit. Make sure you continue to nurture your garden by consistently following these steps. Best of luck in finding your real estate investment deals!