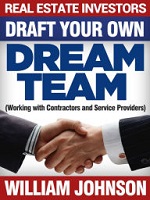 Draft Your Own Dream Team is REIClub.com's  latest addition to our free real estate investing training guides library. It is a quick guide on how to select external team players for your real estate business. Choosing high quality contractors and service providers is a critical component to a successful real estate investing business. Although this book is not a comprehensive how-to, it provides plenty of great nuggets on how to find and decide which professionals you want to add to your team.
Knowing that you have a partner, lender, agent, attorney, contractor, manager, etc., that is experienced with real estate investors and works with investors regularly will make the difference between making money and losing money as an investor, as your business continues to grow. Since there's no way for one person or small team to possibly know everything there is to know to take a real estate deal profitably from start to finish, it pays to choose wisely. This book will help you do that.
The Wrong Contractor Can Kill A Deal
Let's say you've found the perfect investment property to rehab & flip or to fix-up & rent. You have done a quick estimate of repairs you think need to be done, submitted an offer, it was accepted and you then ordered an inspection and scheduled for your contractor to meet you at the property. Then what?
Make note of any unexpected problems that were discovered in the course of the inspection. Ask your contractor for an estimated cost, time and material bid or quote.
For example, a property I purchased five years ago needed new windows, weather seals around all the doors and exterior and interior caulking. I negotiated an additional  $4000 reduction in price due to the advise of my contractor who showed up when I was inspecting the property before I submitted my final bid.
The contractor or really more like handyman told me that he can get all of this done in 3 days with his current crew if I purchased all the materials a head of time. He gave me a quote of $3500. Materials were estimated at $2300 and $1200 was for labor.  Fast forward – it took me 2 weeks and cost me $4600.
Start working in contractors, service provides and handymen to get estimates to fix, repair or replace items in your potential investment property. Using the wrong contractor or service provide can cost you time and money investor's. We want you to be prepared and successful in your real estate investing and made "DRAFT YOUR DREAM TEAM" available for you FREE ON ITUNES.