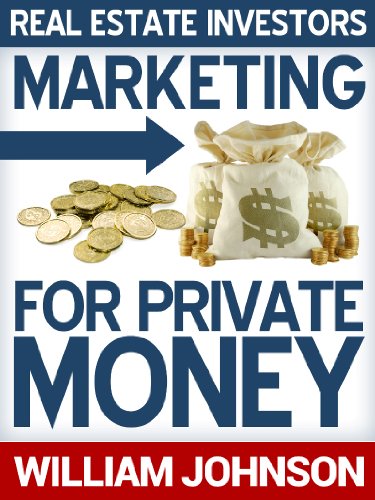 Real Estate Investors Marketing For Private Money
Free on Amazon – Marketing For Private Money teaches real estate investors how to effectively advertise and attract private money lenders. Private money loans allow a real estate investor to lock down great deals due to the ability to close quickly.
Topics covered include print advertising, direct mail, networking, lender luncheons, teaching seminars, search engines, websites, blogs, social media sites, and how to manage and follow up with leads acquired.
Finding Private Money For Real Estate Deals
We know that one of the biggest hurdles for new and experienced real estate investors is "financing" or coming up with the money to close deals. We also understand that traditional bank financing is not an option for many investors. Investors dealing with low credit scores, high debt ratio, bankruptcy, delinquencies, or who may already have too many real estate loans  are often denied financing by banks regardless of how profitable the real estate deal.
Solution: Private Money Lenders  
What is Private Money Lending?
"Private Lending" is the borrowing of real estate investment funds from private individuals at rates higher than the banks by investors. The advantage of private lending is the speed and ease of funding a deal.  Private Lenders don't have as strict guidelines for borrowing their money as a bank. That allows them the flexibility to charge more for using it and they quickly provide funding. If you have a solid deal – then you're almost guaranteed a loan because the "collateral" will be the property  – not you, your spouse, or your credit.
Find Private Lenders
To find out how to locate & work with Private Lenders download your free copy of  "Marketing For Private Money" eBook.
Here are also two quick Private Money Lending training videos for your learning pleasure:
Video #1: "16 Ways to Locate Private Lenders"
Alan Cowgill, a Private Money expert shares over 10 ways to find private lenders.
Video #2: "How To Attract Private Lenders & Prepare For Meetings"
Josh Cantwell, an expert rehabber, shares how he attracts private lenders and meets with lenders to get them to fund his deals.
Private Money Lending is great tool for real estate investors. We encourage you to take advantage of this Free Ebook Download on Amazon today to help you market and find private money lenders.  Here is the direct link: http://www.amazon.com/dp/B00AEJZCJG