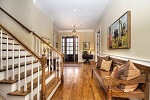 I have tried to get in touch with my feminine side. Really. But from that look that my wife gives me when I say something particularly not astute, I have to say that I have failed miserably. And I'm okay with that. I know it's one of my failings. Which is only one of the many reasons I am grateful for my wife. I rely on her input when it comes to retailing out (selling) my rehab investment properties. She can quickly tell me what I need to do to make the house "work" for a buyer. To a he-man like me (cough, cough), it's nothing short of psychic.
Any female investor reading this probably knows what is coming. They are rolling their eyes and stifling a smirk. I'm going to let the guys in on what women already know: When it comes to buying a house, the guy might make the final decision, but in most cases, if the woman doesn't like the house, the man aint gonna have a chance to weigh in. Keep that in mind when you are working on your rehab properties.
Create Environment With End Buyer In Mind
If you are fixing and flipping real estate deals, you need to create an environment that a woman will love. Now before you run out to buy pink and lavender paint, stop. I've already made that mistake for you. Yes, colors are important and we'll get to that in a bit.
However, the number one and number two things your rehab investment house must be are:
Clean
Brightly-lit.
Dingy =Dirty = No Sale
Face it. We guys don't see dirt. Probably because we like to huddle in our dark man-caves and tune out just about everything but food, beer and whatever game is on. But just because we don't see it, doesn't mean that the dirt is not there. Or so I'm told. And women see it.
Amazingly, most women are like most men in that they really don't want to clean. Real women don't dance around their kitchens with a Swiffer wet jet in ecstasy. Cleaning is work which takes time away from what she likes to do. Which may very well be hunkering down in the man-cave with you, having wings and beer, and watching the game.
Simply put, no woman (potential buyer) wants to move into a dirty house. And if there's a comparable one down the street that is clean (and there is), you just lost the sale. So hire a good cleaning crew. Scrub the corners and over the doorways and behind the stove and fridge and all those places that get missed. Your property has to shine.
Dark=Depressing=No Sale
Most women also like a well-lit house. Windows and bright light make a place cheery. It's a mood lifter. A place that is dark is also associated with dirt. It's dreary. No one chooses to live in a depressing home. If you have a property that is particularly dark, can you add a window in one of the main rooms? How about using a solar-tube to brighten a dark corner? At the very least, put up lighting fixtures and when you show the property turn every light on. There's a reason Motel 6 tells you they leave the light on for you. A warmly lit house is the emotional equivalent of a home.
How To Rehab and Stage Kitchens & Baths For Quick Sale
The kitchen and bathrooms sell the property. Bathrooms need to absolutely shine. Counter space is important as is a linen closet. Most women put on their make up in the bathroom so good lighting there is a must. A rainfall shower head is an inexpensive upgrade that adds a touch of luxury. While most women don't have many opportunities to soak in a bubble bath, they like the idea that it could happen. Help create that illusion during showings with some pretty soaps or yes, even some rose petals strewn on the edges of the tub. Sounds dumb? Try it. Then thank me. (Actually, thank my better half.)
In addition to being clean and well-lit, the kitchen needs good workspace, storage and at minimum, all the amenities you would find in comparable houses "dishwasher, microwave, double-sink, garbage disposal. If all the houses in a neighborhood have granite countertops, then yours better have granite in there, too. Men who don't cook don't think about the convenience of a pull out faucet (an inexpensive upgrade) or having to go down on your hands and knees to burrow into the back corner of a cabinet to find a pot lid. Put yourself in the position of the person using the room. And if you don't cook, grab a friend (male or female) who does.
Painting Your Fix & Flip Property
Only after these areas have gained approval, does the rest of the house come under scrutiny. Let's talk about paint. Color trends change every year. They also vary by area of the country. Study the decorating magazines or hire someone who knows what is "in" before you paint. Too many male investors choose white or beige for their walls. It's the safe choice. Colorful paints cost the same as plain white and the appeal is measurable.
He-Man's Guide To Selling Rehab Flips
The majority of real estate investors are men, especially rehabbers. If you're a rehabber and you aren't in touch with your feminine side, you need to team up with someone who has a good handle on what women want and like. Put down the "looks okay to me attitude" and see if it looks okay to a woman. This "Not So He-Man's Guide to Flipping Real Estate" will get your rehab properties sold more quickly. Trust me.