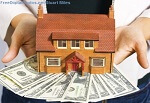 In Southern California, upwards of 55% of all homes purchased in 2012 may have been acquired with either all cash or FHA loans partly since the secondary markets are so restricted. A very high percentage of these home purchases were for homes priced below the conforming / FHA loan limits of $417,000.
Many of these all cash buyers were investment or hedge funds, domestic and foreign. Obviously, the mortgage lending markets have tightened up significantly since 2007 with the Jumbo Mortgage market (loans above $417,000 in many regions of the U.S.) dramatically shutting down the most in recent years due to less secondary market investors.
In 2012, the Jumbo Mortgage market began to slowly increase partly due to the record low interest rates, and the improving residential home prices related to lower home inventory numbers and increased demand from both U.S. and foreign investors. The weaker U.S. Dollar has helped attract lots of foreign investors from regions such as Canada, China, Europe, and Mexico.
More sellers and builders have considered and / or used "seller financing" options (i.e., creating a new 1st mortgage, a Contract for Deed, All Inclusive Deed of Trust (AITD), or using private money sources) in order help sell their properties at a faster pace.
Yet, there is a brand new lending rule in effect which I am still trying to learn myself which may adversely affect residential property lenders, sellers, builders, and brokers. This new rule is The Dodd-Frank Wall Street Reform and Consumer Protection Act (DFA), which began on January 21, 2013.
The rules related to DFA note that no creditor may make a residential mortgage loan without first making a reasonable or good faith determination that the customer may have the ability to repay the loan based upon several statutory factors.
Some sellers may be exempt from DFA if they sell less than three (3) properties every year or they may be considered "Mortgage Loan Originators." Please confirm with your personal advisors since these guidelines are brand new here in 2013.
Some of these qualifying DFA (Dodd-Frank Act) factors that may determine if a seller may provide various forms of seller financing options may include:
The seller did not build the home. This may hurt many small to mid sized builders.
The loan must be fully amortizing with balloon payments potentially being completely prohibited. How may sellers really want to offer seller financed terms for more than one (1) to five (5) years as opposed to 20, 25, or 30 years instead with no balloon options?
The seller determines that the buyer is able to later repay the loan. This new option may turn sellers who offer financing options into strict "bank underwriters." One of the many benefits associated with seller financing in years past was related to the ease of qualifying options.
The loan must have a fixed interest rate for a minimum of five (5) years.
The loan must also meet other guidelines established by the Federal Reserve Board. As of now, I do not know what those additional seller financed lending guidelines may be though. How do we find out?
In today's "Credit Crisis World", a buyer or a seller working with either residential or commercial properties should consider using either conventional bank financing, private money, equity funds, or even by structuring much of the financing by themselves (i.e., Contract for Deed, AITD, etc.) in order to sell or purchase properties throughout the USA.
Once again, it is the availability of capital that is typically the # 1 factor for a "boom or bust" housing cycle. The "Easy Money" time periods of 2001 to 2007 experienced significant price gains while the "Tighter Money" time periods of between 2007 and 2013 experienced price declines.
Those buyers and sellers who are open minded and flexible may later learn that they have the best odds of profiting from distressed real estate opportunities in their regions.