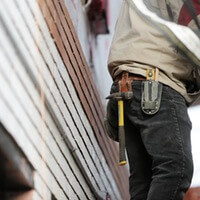 One of my claims to fame is that I can teach you how to estimate the repairs on any house in 15 minutes or less. It's a bold claim but actually not that hard once you get the basics down…
First of all, why is this so critical for real estate investors?
Whether you are wholesaling or plan to fix it and flip, you must know the cost of repairs in order to run the numbers and determine the buy formula. Once you know the repair cost (and ARV) you can calculate the buy price and then make an offer.
Now, here's the thing, you have no idea if your offer is going to be accepted and so you cannot spend a lot of time running the numbers just to make the offer.
I see this happen all too often. An investor spends days analyzing a house, meeting contractors, crunching numbers and then finally gets to a buy price number just to make an offer and have it rejected.
Make More Offers with 15 Min Rehab Repair Estimations
What a waste of your valuable time! Instead, you should walk a house and in 15 minutes know your numbers and get your offer out.
Here's how…
Step 1:
Determine the unit measurement for each item of a rehab.
Examples:
Square Feet (drywall, wood floors, granite)
Square (roof, siding)
Each (windows, dumpster)
Hourly (demo)
Yard (carpet)
Lineal Feet (gutters)
Step 2:
Determine the cost per unit (for your market and type of rehab):
Examples:
$7.00 per sqft = wood floors
$250 per Square = roof
$235 each = window
$15 per hour = 1 laborer demo
$4.00 per Yard = carpet
$1.50 per lineal foot = gutters
Step 3:
Determine the measurement for each item of the rehab (once you know the unit measurement and the cost per unit, adding up the totals should only take about 15 minutes).
Example:
300 sqft = wood floors
13 squares = roof
15 windows
10 hours demo
500 yards carpet
150 lineal feet gutters
Step 4:
Now, just do the quickly do the math (multiply cost per unit x unit measurement)
Example:
Wood Floors: $7.00 x 300 sqft = $2,100
Roof: $250 x 13 sq = $3,250
Windows: $235 x 15 = $3,525
Demo: $15 x 10 hours = $150
Carpet: $4.00 x 500 yrds = $2,000
Gutters: $1.50 x 150 lft = $225
Here's your assignment…
Next deal you look at, time how long it takes you to estimate the repairs. If you can do it in 15 minutes or less, you have mastered this skill and are officially a rehab-estimating expert.