The Value of Locations and Anticipated Future Returns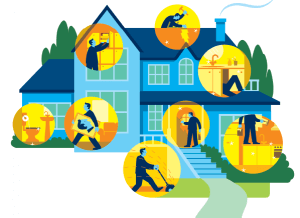 The value of a property, a piece of art, or a stock investment lies firmly on the side of the buyer or investor who is willing to make the investment in anticipation of much higher future returns. To an investor not familiar with a more desirable neighborhood located near the beach, he or she may not understand why other people are willing to pay $1 million dollars or more for a 1,000 square foot, 60-year old, "tear down" priced at $1,000 per square foot. This may be especially true if this same investor is used to purchasing fixer-upper homes 100 miles inland for $150 per square foot (or $150,000) for a similar sized property.
Desirable school systems, lower unemployment trends, newer parks, community pools, and playground areas, and an increasing trend for both new residential and commercial real estate developments within the same region are all valid reasons why property values can increase significantly in the near term. "The Principle of Progression" is an old Real Estate and Economic theory in which the value of an older and smaller home is greatly enhanced by being surrounded by newer and larger homes in the same neighborhood.
The controversial term "McMansion" (used to describe much larger new custom homes built in neighborhoods with much older and smaller homes) can either be a positive or negative experience for neighbors on both sides or across the street. If the new "McMansion" home is built as a 3-story home using almost literally every buildable square foot on the lot, then it may block neighbor's views or exposure to sunlight as well as cause increased privacy concerns since the new elevated high-rise neighbors might be able to look into their neighbor's yards or windows much easier.
For other neighbors, the new "Fix and Flip" or "Flip and Hold" McMansion home may set future all-time sales records per square foot for the neighborhood. These future higher prices may attract new buyers or investors to the same neighborhood who wish to try to replicate the same record profit margins for the first "McMansion" investor in the housing tract. As future sales trends increase, then both older and newer custom homes may benefit with much better housing sales comps.
Buy Right & Sell Right
The best way to make money in Real Estate is to buy right at the lowest price possible in regions on the upswing as opposed to the downswing. The most important component associated with Real Estate is the access to capital or money or creative investment strategies.
Investors need money to get into and out of properties as soon as possible. Buyers who later become Sellers then need new Buyers with decent access to cash or loan sources in order to cash them out of the property. The better your access to capital, creative purchase options, and Rehab Teams as well as your best timing to sell homes when the sales comps in the area are near record highs, the quicker your access to higher amounts of capital or profits yourself!