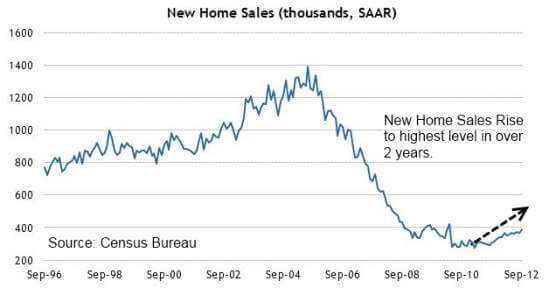 Just got off the phone with my lender and their office is busy! New U.S. single-family home sales surged in September to the highest level in nearly 2-1/2 years, further evidence the housing market recovery is gaining steam.
The Commerce Department said on Wednesday that new home sales increased 5.7 percent to a seasonally adjusted 389,000-unit annual rate — the fastest pace since April 2010, when sales were boosted by a tax credit for first-time home buyers.
The median price of a new home jumped  11.7 percent from a year ago.
In a separate report, the National Association of Realtors said that Pending Home Sales increased by 0.3% on a month-over-month basis and jumped 14.5 percent from a year ago.
This just came in via email from my broker Altera Mortgage