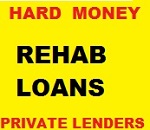 Mortgage money obtained from banking or institutional sources, called conventional mortgage money, usually takes between 45 and 90 days to fund. Institutional lenders need not only obtain appraisal of the value of the property, but also require detailed examination of the borrower's credit history and current financial status, as well as financial statements and tax returns not only for the property securing the loan but for all real property and business interests owned by the borrowing entity and the borrower himself.
Basis For Private Money Lending
Private Money Lenders like my company and hard money lender in general, on the other hand can usually complete a transaction within 7 to 10 days.
Since the property value itself is the main criteria to be used in determining loan eligibility, much less information on the borrower and the borrower's other properties are required, resulting in a much quicker approval process.
Private Money Speed vs Loan to Value
Private Money Lenders protect themselves by lending at a much lower loan to value ratio, 65% is typical for the private mortgage lender vs. 80% – 90% for the institutional lender. Further, private money lenders & hard money lenders can make a decision within 24 hours of receiving information; institutional mortgage money must be approved by a loan committee that may only meet twice a month, and that may send the loan request back to the loan officer for more information, necessitating a further two week delay until the committee meets again.
Speed Advantage of Private Money
Real estate investors will often need cash immediately to take advantage of a purchase opportunity below market price. In many cases a seller being foreclosed upon is in denial until the last possible moment. In these cases it may be possible for a real estate investor with cash available to purchase the property at 50-60% of market value – if he can produce funds before foreclosure.
Conventional or institutional financing can take too long. The real estate investor wanting to take advantage of this opportunity either needs to have the cash liquid or utilize the services of a private money lender. With so much profit potential in these situations, paying a hard money lender's premium interest rates and fees is a small price to pay for being able to complete the transaction.
If the real estate investor decides to keep the property, he can refinance with conventional money at his leisure. Further, if the investor in the above example seasons his property, that is owns the property for more than a minimum amount of time (6 months- 12 months is usual), then it may become possible for him to refinance based on the appraised value of the property rather than the lower of appraised value or cost. In such a case the real estate investor may be able to pull out some or all of his profit in the form of a new loan in excess of his property purchase price and close out his private money loan.
Private Money Lending Rescues
Another instance in which opportunity exists for the real estate investor to utilize private mortgage financing is when a property owner is in need of cash quickly – much sooner than possible when borrowing conventionally. I've lent in numerous such situations. One was when a lady who owned two rental houses free and clear needed $30,000.00 immediately to get her son out of jail in Mexico. In another situation a real estate investor had allowed relatives to live rent free in a duplex he owned asking that they pay the property taxes. He called me on a Thursday needing a loan; foreclosure for taxes due was to occur the following Tuesday. We were able to close by Monday and save a $130,000.00 property from being lost for $35,000.00 in back taxes, interests and penalties.