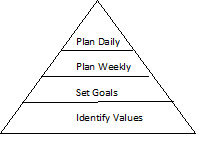 The Productivity Pyramid. That's what a successful Asset Manager and Real Estate developer told me I needed some years ago to get on track and materialize as a profitable real estate investor.
Five years ago or so when I first got started out I had two toddlers in tow, couple rentals under my belt and was in the middle of a rehab flip when I meet him. He owned a property management company and was buying up bankrupt Apartment owners at the time and our paths crossed at an Auction.
We quickly became friends and I took away one main thing early on in our friendship –you have to PLAN TO BE SUCCESSFUL.
I was complaining about how the kids and the hubby always take up my time or unscheduled distractions prevented me from realizing what I had set out to do each day. You know what he said loudly- that's B.S – right to my face. I was lost for words.
My response was ok – show me what I can do differently. Here are the Productivity Tips he shared that made him a successful real estate investor:
Reserve ten percent of your time to plan ahead.
Get ahead of today and then ahead of tomorrow, then ahead of next week , then you can think about the future.
When? Before the week begins
How Long? 15-20 minutes max
3 Steps to Weekly Planning
Review priorities – Roles values, goals, performance objects.
Choose Clear Achievements, Goals  or Chunks of a project
Schedule the Week
Goal Setting Tips For Real Estate Investors
Write it down
Give it a deadline
Break it down into doable chunks
Commit
Remember SMART
He also shared for me when he worked for IBM they had a SMART mantra that they use to pump of their business projects.
S – specific
M – measurable
A – achievable
R – results-oriented
T – time-specific
To be an effective and successful real estate investor on any level, you need to prioritize your time all the time. Ask yourself: "Am I doing the things with the highest leverage for my business, team, or company today? Asking your self this questions often throughout the day will be like using an internal GPS to get you to that place you call "Success".