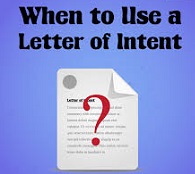 What exactly is a Letter of Intent? Well according to Wikipedia, it can be defined as is a document outlining an agreement between two or more parties before the agreement is finalized. The Letter of Intent or (LOI) is typically used to define a offer from a real estate investor to a seller/home owner, it could also be sent from the investor to real estate broker agent/broker. Most of the times it is used to open communications and express your interest in an investment property or business opportunity.
An LOI can come in many different forms. But they will all contain some sort of communication stating a proposal to enter into a contract in the future for an exchange of goods and services. This letter would be a weak relation of a sensibly exchanged and recognized proposal or agreement before you have a formal contract in place. A LOI should serve at least one of these three functions:
This is a non-binding declaration of the future objective of two parties, the real estate investor and the seller/home owner/real estate agent, what you would call a 'comfort letter'.
This is an interim contract containing its own terms and conditions, which will lead the connection between two parties until an official written contract is created.
This is a concluding agreement which, despite their taking no prescribed implementation is judged to have the combined terms of a formal written contract on which two parties intend to go into agreement on.
Tips To Build An Impressive Letter of Intent
Your Letter of Intent should contain the following:
The Scope of the offer should be clearly identified.
The matters that you want to resolve during a specific contract period before and after the main agreement should be part of the description.
A Letter of Intent is prepared for elasticity growth, and should only serve as a temporary contract, incomplete in lieu of the main agreement, and that neither party intends to be bound by the main agreement until the written manuscript is implemented by each of them.
However, it is possible for the both parties to unintentionally surrender such requirements if their behavior denies this or a acceptance deadline is not adhered to.
Clearly write out offer terms, property description, and your contact information.
Have terms spelled out of what to do in case of failure to uphold terms on either parties obligations.
It should be issued by whoever is entering into the contract themselves, not issued by someone else who doesn't have authority to contractually quandary the issuer such as wholesaler or rehab project manager.
Your Letter of Intent shouldn't do the following:
Don't use a Letter of Intent as your binding purchase agreement contract.
Don't have a Letter of Intent which does not clearly identify parties of the agreement
Never send a duplicate of the LOI to the future party for verification.
Don't formalize the offer to buy/purchase before the letter's expiration.
However, should something go wrong during the period of time before the actual contract is formalized, it will carry on in lieu of said contract. Real Estate Investors, if a LOI is accepted should then improve and replace an LOI with a fully-formed, documented agreement to purchase/buy an investment property as soon as conceivable. Follow the given instructions and enjoy your ride in the business communication world, whether it is for Real Estate Investing, or other business related ventures!