As a real estate investor who focuses on rental properties and an occasional fix & flip real estate deal, I realized that I could just as easily use some of my real estate profits to become a private money lender. Think about it – imagine not having to deal with the whole acquisition process, rehabbing, tenant repairs, & complaints, accept for writing a check and reviewing a 1-page investment projection plan. After all, I think I've been around the block enough to spot a "good real estate deal" in terms of numbers, location, and exit strategy of the real estate investor who brought the deal for me to fund. There is an entire industry evolving around this type of money for real estate investors.
What Are Private/Hard Money Lenders?
Private money lenders are located in almost every municipality and are eager to earn above average rates of return on their money. Private money loans do come with the potential risk that a private money loan may not be re-paid on time or at all. However, in the case of a real estate transaction you the "Private Lender" are protected by your "secured" asset. As a private money lender investor you can ask for a deed on the property in your name & insist that the insurance on the property have you listed as a beneficiary – just like if you were a big bank lending money – to insure they you would be repaid in the event of a default on the loan or catastrophe to the property.
The definition of a private money lender is an individual that will loan money to investors for real estate investments. The money can be used to purchase rental real estate investments, rehab real estate investments or fund wholesale deals.
So the concept of "private money lending" can be defined as the process of loaning real estate investment funds at rates higher than traditional lenders to achieve higher returns compared to conventional investment vehicles like stocks, bonds, CDs, or money markets and it always secured by real estate property.
Private lenders that are familiar with real estate investing can really do well by using their extra cash to loan to investors and finance worthy properties. Private lenders are looking for returns substantially above the 1% to 5% they get at the bank. Did you know that most private money lenders are enjoying investment returns in the 7% to 15% range, quick turn their money in usually 2 – 12 months and their real estate loan is secured by the property/asset?
Benefits of Becoming a Private Lender Investor
If you were to expand your real estate investing business to focus on cashflow imagine this…
Massive Cashflow Without Tenants!

Massive Cashflow Without Qualifying For Mortgages!

Massive Cashflow Without Having Good Credit!

Massive Cashflow Without Rehabbing!

Massive Cashflow Without Owning Properties!
Private lending is one of the FASTEST and SAFEST ways to cashflow and ROI (returns on investment). Nothing in real estate has the advantages that you get in Private Lending when it comes to cashflow.
How Do You Find Investors Looking For Private Money?
There are at least three areas that are proven effective for marketing for real estate investors that are looking for private money:
Craigslist/Kijji
Facebook (investor groups, paid ad, etc.)
Online real estate investing portals like REIClub.com and BiggerPockets
Here are two some simple examples of private money lenders advertising on craigslist: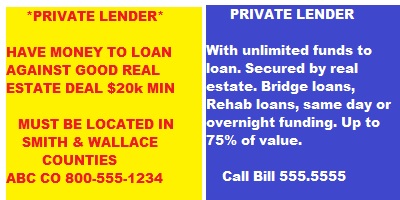 Be Prepared To Answer These Questions As A Private Money Lender
How much money do you have available to lend?
What is your lending criterion
Do you also lend for repairs?
What is your interest rate?
Are there other costs or fee?
How quickly can you have the money to me or escrow?
Are there any properties that you will not lend on?
Can I work on more than one property at a time?
What documentation do you need from me?
What is the minimum amount you will lend?
Also consider this, not only are investors looking for non-conventional loan, regular Joe & Sally looking to buy a home with poor credit is also looking for private money lenders to help them achieve that American dream. Just the other day this came into the REIClub.com mailbox:
Looking for a private real estate investor (Central Mass.) We are a professional couple who got hit by the recession and some life issues, trying to get back on track. Between us we make about $130K per year.

We have found a house for just over $229,900 (It was purchased in 2009 for $290K and tax assessment this year is close to that) that would suit us very well, but our just below 600 credit scores are not making it to get a conventional mortgage. We thought we had an investor lined up and it fell through.

We are looking for a real estate investor to help us bridge today through one to three years hence or for long-term mortgage, helping us to purchase the house we found in a rent-to-own situation.

We are legit, but do not have cash and are in need of out-of-the-box financing.
One of the best moves you can make in your real estate investing business is to diversify and become a private money lender on the next real estate deal you hear one of your fellow real estate investor friends are working on. You can start out small and safe, for example loan them $10K to cover their rehab costs with a 10% return just to wet your private money lending investing beak.