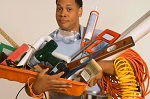 Home improvement shows on HGTV always involve making a tiny bungalow open concept and adding bathrooms. Installing engineered beams, replumbing a house, and knocking down walls require a licensed contractor and building permits. Some investor flips don't warrant that degree of investment and frankly are in good enough shape that modest cosmetic fixes will provide a generous return. These 8 renovations can be made without a contractor and offer a good bang for the buck.
8 Renovations You Can Make Without a Contractor
Paint
A fresh coat of paint can work wonders to bring a tired, neglected house to life. Painting walls is easy and inexpensive. The overhaul shouldn't stop there, however. Kitchen and bath cabinets, brick fireplaces and built-in shelving should also be on the list. When new cabinets are not cost-effective, paint or a new stain can update a look.
Landscaping
Curb appeal is a big deal and sets the first impression buyers have of a property. Laying sod, installing pavers, and spreading mulch take a good bit of sweat equity, but the effort always pays off. Additions can be as simple as planting annuals around the mailbox or more involved like trimming back overgrown trees and building a planter.
Cabinet Hardware
Kitchens and bathrooms sell homes, so these areas need the most attention. Another way to update cabinets when they can't be replaced is to swap out the drawer pulls. These are relatively inexpensive and easy to install. It's especially important not to neglect this detail if new appliances are installed.
Closet Systems
Storage, or lack thereof, is a big factor for people seeking new homes. If a closet is small, then adding an organizer or custom rack system can go a long way to improving the appearance of the space. The Container Store carries Elfa shelving, which installs with a single rack system. It's pricy, but has a very high-end reputation and is certainly less expensive than creating a walk-in closet where none exists.
Beveled Mirror Strips
Years of splashing water when washing up takes its toll on the silver backing of a mirror. Adding a beveled strip over a damaged mirror is a quick fix to an otherwise costly problem.
Lighting
Changing out a light fixture requires some skill, but if it's just a swap of one chandelier for another, do-it-yourselfers can handle the job.
Window Treatments
Natural light is the newest must have for home buyers. If cheap blinds hang in every window, take them out and leave them in the garage. Windows can be bare or adorned with a decorative pole and colorful swag instead.
Flooring
Laying tile or installing engineered hardwood is a bit advanced for some, but still entirely doable without a contractor. Just make sure the base is level before starting.