As the saying goes, "You never get a second chance to make a first impression." So, I need to make the first one the best. With the economy, it's definitely a buyers & renters market right now. And, buyers are getting pickier and pickier. So, I really do take the time to get homes in pristine condition before I put them on the market for sale or rent – this includes cleaning them from top to bottom.
One of the most important members of my team have been my cleaning crews. And, I have to tell you – I've learned a great deal from them regarding cleaning homes professionally. When it comes to make-ready and rehabbing, there are two "Power Tricks of the Trade" that I've learned from my cleaning crews that have saved me on time, money and headache.
Power Trick of the Trade #1 – Epoxy Paint
Recently, I had an issue with one of the appliances for another deal – the refrigerator. After my cleaning crew had finished up cleaning the home, they pointed out there were some rust stains they just could not get out even with the best cleaning materials and/or a good scrub. Here's the before pic: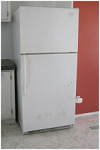 (Fridge Cosmetically Damaged Near Bottom)
Important Note: This is before my cleaning crew did any cleaning to the refrigerator itself. They cleaned as much as they could but it was mainly the bottom area that had issues. Upon further examination and opinions from various experts, we came to a solution – Epoxy paint (mainly used for appliances). And, guess what? This definitely did the trick.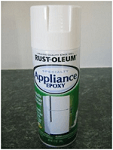 For the paint itself, I took a trip to my local hardware store and specifically asked the staff the type of paint I should be using for the project. It turns out there's a specific kind of paint to be used on appliances themselves so you have to make sure the label says "appliance paint" or something to that effect. To my surprise, I learned there are different types of paints for different types of metals and textures which is a very detailed subject area within itself.
Appliance Epoxy is an ultra-hard, moisture resistance enamel that is specifically formulated for indoor metal surfaces. It provides a smooth, washable surface for refinishing the exterior of appliances such as refrigerators, dishwashers, laundry machines, and other indoor metal applications (cabinets, tables). Caution: Do not use on objects exposed to heat (stovetops, oven interiors, etc.) After locating the paint needed for the project, I took it back and tried it out. And, guess what? It worked! Here is a photo of the results: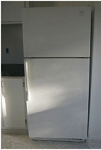 (Fridge Beautifully Restored Near Bottom – Pretty Cool!)
The goal of this real estate rehab training is to share with you the "Tricks of the Trade" I have learned in rehabbing and the mobile home rentals business. Did this save me time & money – it sure did!
Power Trick of the Trade #2 – Magic Eraser
Here is another secret weapon: The Magic Eraser. I first heard of this product from a mom who told me it does wonders. To be exact, her exact words were "It cleans everything!" So, I decided to try it out. Wow! Basically, the "Mr. Clean Magic Eraser" is kind of like a sponge which in essence – erases. All you need is some water to dip it in and presto, you can start scrubbing. And, that is where the "Magic" begins!
So, what is the "Mr. Clean Magic Eraser" good for as it relates to cleaning mobile homes or in fact any home? For me personally, I found it especially useful to clean and scrub important areas of the home where folks spend the most time in – detailed areas like the kitchen counter tops, living room floor boards, etc.
Here's the thing, when we go into someone else's home – we usually notice things we probably wouldn't notice in our own homes. So, when the homes are getting ready I really take the time to imagine myself going into the home for the first time once it's all ready and done.
Involving myself in the cleaning process and learning the techniques the professionals use has really helped me to see that details do matter. Small details I probably would gloss over have been pointed out to me by my cleaning crews – I would have never thought to give them much attention. But, in the overall picture and scheme of things – it does matter.
I hope this real estate "Tricks of the Trade" training as has helped to give you some insight on some aspects of the cleaning process I use to get homes in marketable condition. Putting both time and money into getting homes ready has really made the entire selling and renting process easier.