REIClub is proud to announce that Daniel Duffield from Lender411 has given the REIClub Real Estate Investing Blog a perfect 5 out of 5 stars review. We thank Mr. Duffield for taking the time to review our real estate blog.
Here's a small excerpt from the review:
"In terms of content, posts range from insightful market trend observations to incredibly advantageous real estate tips to user-friendly videos, each containing valuable information for any interested in real estate investment. For instance, in a recent video post, contributor Frank Chen thoroughly explains the process of filling out tenant lease agreements. One of many in a series, this video provides detailed information on how to handle every possible issue that may arise when managing a tenant lease agreement."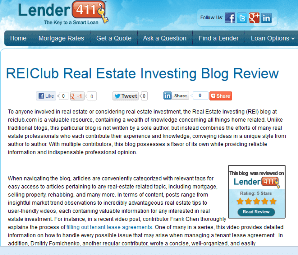 The entire review can be found at Lender411.
As most of you know, we strive to bring real estate investors of all experience levels relevant and useful information on a regular basis. We have many wonderful blog contributors that share their unique knowledge and wisdom. We thank them here again for their frequent contributions and time spent helping other investors.