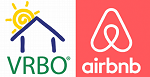 Traditionally, those that have purchased investment real estate have done very well with their investments when rented out for cashflow. While property values and rental rates continue to rise, there are now other ways to make money with your property. One great option to consider would be to use your investment property and rent it out on AirBNB.
Short Term Rental – Higher Rates
One reason why you should consider renting your apartment out on AirBNB is that you will receive higher rental rates. While monthly rental rates are very higher on average nationwide, the rate per day with an AirBNB rental will be significantly higher. Furthermore, if you live in an area with special events, you may be able to charge a premium around the events due to increased demand. While you will never be guaranteed occupancy on any given night, renting it out on AirBNB provides more potential Revenue than more traditional leasing options.
Less Collection Risk
When you decide to rent an investment property out on AirBNB, another benefit is that you will have less collection risk. Even if you run a full background check and credit report on a prospective tenant, there is always the risk that something will happen and they will stop paying your rent. While you can go through the eviction process, it is very time-consuming and expensive. With an AirBNB, you will not have this risk as tenants will pre-pay for your property and have to put down a credit card as a form of collateral.
Damage Protection
Another benefit of leasing an investment property on AirBNB is that there is additional protection due to tenant damage. When leasing a property to a long-term tenant you will likely collect a security deposit of around one month's rent. When leasing a property on AirBNB your tenants will be required to put forth a deposit that you request but will also have to put forth a credit card on file. If you experience significant damage due to a tenant, there could be far more funds available through the credit card to cover your repair costs.
Build Reputation
If you are committed to providing great service, you can further improve your earning potential and cash flow through AirBNB. Unlike traditional long-term leases, AirBNB tenants can leave ratings on an open forum. If you earn a good rating for providing great service you can earn a higher rating. This can then allow you to request higher rates, have less occupancy, and earn more money.