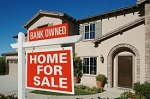 Let's explore a real estate investing niche that could bring you riches: REO's (Real Estate Owned By The Bank). It's formed from the third and final stage of the foreclosure process. An REO property is created when no one purchases the house at the auction, forcing the bank to buy the property back itself. Remember the bank didn't want the house back, but the property was the collateral for the money lent to the homeowner. The property now becomes "Real Estate Owned" meaning- it's 100% owned by the bank. REO investment properties can present many profitable opportunities for real estate investors.
Why Is Investing in REOs a Good Niche to Consider?
Below Market Value – One of the prime benefits of buying a REO property is most REO properties are available at below market value. The reason for this is that the bank is liable for the taxes on the property and they generally prefer to sell it to you at below market value and get it off their books.
REOs are a Nightmare to Lenders. Property taxes, city and county assessments, utility bills, and maintenance costs eat into the lender's profit. The threat of vandalism and illegal occupancy requires that lenders board up REO windows and doors. Often times lenders must hire security services to watch over REOs to keep out trespassers. For these reasons, lenders are often eager to sell REOs quickly.
You are Buying Property Free and Clear of Liens – once you close, you receive clean title policy without exception.
No Back Taxes – banks have paid everything at closing.
House is Most Often Vacant – I can go there as much as I want before I close.
Clear Equity Value – You do not have to argue about "correct" amount of equity with the homeowner.
Minimum Risk – Among the different types of bank foreclosed properties – pre-foreclosures, foreclosure at auctions or HUD foreclosures – REOs offer the buyer the least amount of investment risk. REOs are generally properties that have survived a foreclosure auction and now belong in the lender's inventory of non-performing assets. The banks maintain these properties and are generally sold free of liens and other encumbrances. This is why you would use a title company to insure the property in case a lien as later found.
Availability – Compared to other foreclosure properties, REOs are easier to locate. All you need to do is to contact any Real Estate Agent who will send you current listings. You might also go online to mortgage companies or banks directly. You can usually find a list of REOs in your area online if there are any. Pick an area and start buying every good deal in sight. 🙂
Potential for Great ROI (Return on Investment) – Reselling a foreclosure home can provide a great return on your investment. You may not be interested in buying a foreclosure property for yourself, but you still have the option to make a profit by reselling it. After all, this has been the most frequent practice used by many real estate agents to generate income. Moreover, a little renovation work can further add to the value of the property and generate higher returns.
Buying REO's is one of the best ways to generate profit in the real estate market today. However, before you finalize your purchase, make sure you do your due diligence and research the property so you feel comfortable with the purchase. It's important to research as much as you can about the area, current housing prices, planned developments, proximity to stores, the town, etc. This research can save you many headaches and problems down the road. The research required and other steps to succeed in this niche should be supplied to you by your mentor, trainer and coach.
What Are The Downsides of Investing in REOs?
While there are bargains to be found, REO properties don't always sell below market value. The bank will always do a BPO (a kind of appraisal) and often the person doing this property appraisal is from out of town and does not completely understand the market.
It can be difficult dealing with bank-owned properties as some lenders are in offices far away from where the loss-mitigation department is struggling to process the listings and getting everyone in sync on your end can be a challenge. Today's REO's are almost always handled by the bank hired Real Estate Agent who would be accepting your offer from another agent or representing you in the process.
The investor must be careful when looking at bank owned property to know what the real value of the property is. The bank owned property might not be a great bargain. Be sure and include a time for inspection in your offer contract and do your homework before finalizing. Make sure that the price you pay (if you're successful in getting offer accepted) is comparable to other homes in the neighborhood. Consider the costs of renovation, including time to complete them. Don't get caught up in a bidding war and pay more than you should.
Good Market Conditions:
A lot of houses on the market
Average time on the market for houses is 4 months or longer
Depreciating Market
Large number of foreclosures
Bad Market Conditions:
Low inventory of Houses
Average time on the market for houses is 3 months or less
Appreciating Market
Low number of foreclosures
10 STEPS TO INVEST IN REO NICHE
You must find the right buyer's agent to work with you on finding properties. If you are going to employ the services of your own real estate agent (a buyer's agent) be sure to find one based on the following criteria:
Ask Realtor for a list of all REO properties with some recommendations for good deals.
Ask Realtor to contact you first when they know of an impending listing giving you chance to make an offer before it hits the market.
Before finalizing your offer, have your agent contact the listing agent and ask the following:

Are there any inspection reports?
What work has the bank agreed to?
Is there a special "as is" form?
How long does it take the bank to accept an offer?
How does your agent deliver the offer

Make an offer.

Your offer should include an inspection contingency period that allows you to terminate the sale if the inspections reveal unanticipated damages that the bank will not correct. Even though you agreed to purchase property "as is," always give the bank another opportunity to make repairs or give you a credit after you've completed your inspections. Sometimes the bank will re-negotiate to save the transaction instead of putting the property back on the market.

Banks do not want to see a lot of proprietary disclosures; For instance, they are exempt from the California Sellers Transfer Disclosure Statement (TDS-14). If there are real estate agents involved, either representing you or the bank, those agents are required to provide you their disclosure statements.

Offers are usually FAXED to the bank. The listing agent needs your originals. There is no formal presentation. Keep in mind: nothing happens evenings and weekends (banks are closed).

Since there is no face-to-face presentation to the bank, provide the listing agent with a pre-qualification or better yet, a pre-approval letter along with proof of funds and copy of down payment check. A cover letter adds a nice touch as well. You should make your offer easy to accept.
Wait for bank to counter or accept offer.
Negotiate terms until a profitable offer is accepted by the bank in writing. (Do not spend money on property until you see a written acceptance by the bank)
Close on the property
Sell or Rent property for profit.
Where to Obtain REO leads:
Search Public Records:
In various stages of the foreclosure process, notices are recorded with the County Clerk at your County Recorder's Office. This information is public record and is available to anyone. Just visit your county's office and you can search for a Notice of Default (NOD), Lis Pendens or for a Notice of Sale. The best part of searching public records yourself is that it is Free. In addition, you're likely to find newly posted properties that haven't yet reached many of the online foreclosure data providers.
Find Asset Managers:
You can also find REO properties through Asset Management companies. Simply put, these companies help lenders dispose of assets. Many of these asset management companies will provide listings of the REO properties that they represent on their website.
Find Government Foreclosures:
The government can also foreclose on properties. Good place to start is www.hud.gov.
Make contacts at local community banks who take in their own REO's and make friends with the person who oversees the sales of them. Many smaller banks don't have as many REO's therefore, don't send out to other companies to handle.
MLS: This is the most common way to find REO's today is this way. After a property has been foreclosed on and taken back by the bank, they are usually listed with a Realtor on the Multiple Listing Service (MLS). .With the number of foreclosures banks are holding right now and most are not handling their REO's sales in-house. In fact it is nearly impossible to purchase 1 single REO from a large bank, let alone going in with millions of dollars offering cash for bulks of them. I personally have not been able to get through to the big banks directly to buy REO's for the past 18 months as of the time of this training. This is the source I have used most successfully in today's market.
This concludes my article on Investing in Real Estate Owned by the Bank (REO's)