"It's often smaller money decisions that people don't think much about that, in the long run, makes it harder for people to reach financial success," said Joe Correnti, senior vice president of Scottrade Brokerage Products. "That's why it's important to remain diligent about where your money is going and to constantly evaluate if your spending is in line with your long-term financial goals."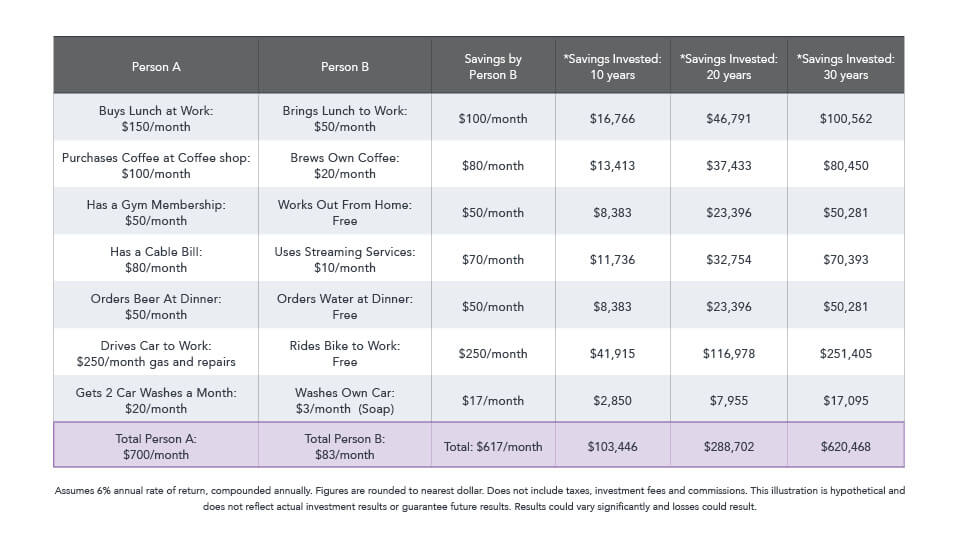 I ran across this quote and "money tip graphic" while reading the  financial newsletter that came with my quarterly earnings statement.  It was interesting to me – so I thought that it was be a great share for REIClub investors as well.
Look at the graphic above. In this day and age of convenience and swipe – it's still important to think about how small monetary changes can make an outsized impact on your finances over time.
Often times as new real estate investors, or investors trying to grow our portfolio – we struggle with "start up costs". Sometimes getting business cards, a few bandit signs, signing up for an email marketing list management service, perhaps even paying small real estate investor club dues or purchasing a niche real estate investing training course – can cost a few bucks that you may not have readily available or can't afford.
Trust me I've been there.
There are always small tweaks or sacrifices you can make to your income and spending habits that will yield you extra cash for savings or investing.
I remember one year – when craigslist was just getting popular – I set out to strategically sell my junk. I was going on cruise with some girlfriends in November and I wanted to go on one of those expensive dolphin excursions. I was a stay at home mom at the time so I had to get creative – I had no income – and really I had no "expenses" I could cut.  Well I set a goal to raise "$350" in extra spending money that April – and every week for 3 months I found things to sell on craigslist. That summer I earned $435 from selling my junk.
Every time I sold an item I would put it in a little piggy bank that I kept on the window sill above the kitchen sink.
When it came time for investing – my first wholesale deal – I had to come up with the closing costs because the title company would not do simultaneous closings or double closing type transactions. I remember the escrow agent sending me a letter stating I needed to pay $1,230 in closing cost and I can wire the funds for bring the check to closing.  I fought for them to use the funds of the back end deal to cover the A-B transaction – but nah, I was not so lucky. I had 25 days to come up with it.
I had to get creative.
I asked my end buyer if he could pay his earnest money/down payment directly to me via the title company escrow account. That was $750. That left about $480 to "find".
If I wanted to make $7000 I had to find $480.
What did I do? I did not eat out all month, no Starbucks treats, sold a few items on craigslist again (I was a pro by now) and I did not go to the salon.
When it came to closing day I had scraped together $1,339 including the buyers deposit.
The struggle was worth it.
I remember getting that first check…$7,000 – well actually it really paid out as a wire transfer into my account. I remember I decided to open a separate business account, setting aside $1500 for taxes, writing my self a $500 "profit sharing check" and leaving $5000 for future "deals".
So if you are just getting started in real estate investing and currently broke – that's perfect. It will force you to find creative ways to do real estate investing, get smart training tips and looks for was to be more fiscally conservative if you ever need to come up with few dollars to get a deal done.  I hope this inspires at least one of you investors out there. #realestateinvestingrocks