A real estate investor can be very successful when using any of the 5 creative real estate investing selling strategies found in Part I of Strategies for Selling Properties At Full Price. Let's pick up from the last selling investment property strategy covered in Part I:
Selling Investment Property Strategy #5 – Seller Financing/Lease Options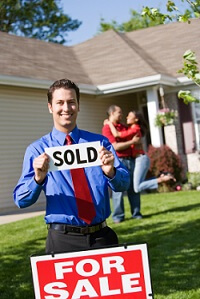 You can also use creative strategies to sell your house without using a real estate agent and a mortgage broker. If you do not have pre-approved buyers and you are worried that the house will not appraise for a high enough value then you should consider seller financing and rent to own lease options. The advantage of seller financing and lease options is that when you sell the house you do not need a mortgage to be approved nor do you need an appraisal. You also do not need a pre- approved buyer. What you do need is someone that has more cash than your typical FHA buyer.
Some people that are interested in buying may have recently lost their home to foreclosure or a short sale. Many of these people are looking for a house but don't like the idea of renting since they were previously homeowners. They cannot get approved for a mortgage because their credit has been recently ruined because of the foreclosure or short sale and this is where the opportunity for you as an investor is created.
In our experience there are many people out there that are renting or are in the process of losing their homes that would like to own a home instead of renting one. If you put yourself in their shoes you will see that they are looking for a house that they can stay in for a long time and they are looking for payments that they can afford. They would also like to ultimately own the home. If they only have 5% to 10% of the purchase price as a down payment consider a lease option (rent to own). If they have 10% to 20% of the payment then you can consider offering them seller financing.
If you do offer seller financing then I suggest that you get the largest deposit you can get from the buyer. If the buyer defaults on his payments and stops paying you then it could take you a considerable period of time to get your house back since you would have to sue them and start foreclosure proceedings against them. This is why you need the protection of a large deposit. You need a cash cushion of at least 1 years rent to make it worthwhile. If you have a private lender then your lender will have to be agreeable to you selling the house with seller financing.
My experience has been that the larger the deposit that the buyer puts down, the less likelihood that they will walk away from their house. I also find that buyers that put down larger deposits will take better care of the house. We offer our buyers seller financing with 20% down and an annual interest of 9.75% on the mortgage balance. I structure the mortgage payments as interest only five year balloon mortgages. It will usually take a period of up to 4 years for someone to repair their credit to the point where they can refinance their loan with us and pay off the loan with a conventional mortgage which is why we use the 5 year term.
Here is an EXAMPLE of how this selling strategy works:
Purchase:
Your purchase price $50,000
Repairs to fix the house $15,000
Total Cost Including Repairs $65,000
Sale:
Sales Price to New Buyer $100,000
Buyers Down Payment $20,000
Buyers Monthly Interest Payment (9.75%) $650
Buyers Monthly Taxes and Insurance $300
Buyers Total Monthly Payment $950**
**Equivalent Market Rents Are $1,250 So Buyer Owns a Home For Less Than Renting* *
Structuring the Seller Financing/Lease Options Deal Like This Has Numerous Benefits:
Very appealing to buyers that cannot be approved for a mortgage
There are many people that have lost their homes but don't want to rent
Large deposit is cash in your pocket which protects you
You get a portion of your profit up front
You do not need an appraisal
You don't need a pre-approved buyer
You don't need to wait for a mortgage to be approved
Your buyer will take much better care of the home than a renter would
You have much more money in your pocket than a landlord would
You are selling the home at fair market value to a willing buyer
The key is to have potential buyers that are looking for seller financing opportunities before you purchase the house. I find that one of the best ways to do this is to advertise my existing rental properties as rent to own homes with seller financing available.
Doing this attracts other potential buyers that I can store in my database. I currently have many potential buyers looking for a rent to own home or seller financing home. When I am thinking of purchasing a house I can have these potential buyers go by the house before I purchase the house and if they like the house then they can give me a deposit to secure the house. Many of the rent to own buyers can become seller financing opportunities down the road when they want to exercise their lease option if they cannot get approved for a conventional mortgage.
Private Money Loans & Seller Financing
If you use borrowed money from a private lender to purchase houses then you will need the approval of the lender to do a "wraparound mortgage" more commonly known as a "wrap". You need to make sure that your existing mortgage does not have a due on sale clause and if you have a private lender then you should first check with them to see if they are willing to let you do a wraparound mortgage. The way the wraparound mortgage works is like this:
Wrap Mortgage EXAMPLE:
STEP 1 – Let's say that you borrow $65,000 from a private lender for the purchase and rehab of the property. You agree to pay 10% interest to the lender which is $541.66 per month (interest only).
STEP 2 – Then you find a potential buyer for the property for $100,000. The buyer gives you a $20,000 down payment which you get to keep and you give them a mortgage for the $80,000 balance.
STEP 3 – Assume that you charge your new buyer 9.75% interest then your buyer's monthly payment would be $650. Every time your buyer pays you $650, you would in turn pay your private lender the $541.66.
IMPORTANT NOTE: Keep in mind that you are still responsible for making the payment to your lender even if your buyer misses their payments. If your buyer defaults and stops making payments then you will still be able to get your property back by suing the buyer via the foreclosure process. However you will need to continue to make all of the payments to your lender while you are waiting to get your property back which could take some time.
In the above strategy, there is no appraisal required so the deciding factor to most buyers is not the purchase price but the monthly payment. You could just as sell the house for $110,000 or even $120,000. Selling the house for $20,000 more makes the payment go up by only $162.50. The buyer's payment would now be $812.50 instead of $650.00.
Compare those payments to current market rents of $1,250 for the same house and you can see that for the buyer it is a good deal. If that same house would cost $1,200 per month and your buyer can buy it with a monthly payment that is less than that then it would make sense for them to buy instead of renting.
This is an example of putting yourself in your buyer's shoes. Because no appraisal is required you could sell the house for any amount that you and the buyer agree to as long as they can afford the payment and as long as the payment is reasonable compared to what that same house would rent for.
Remember that the determining factor for the buyer is their monthly payment not the purchase price. However, please keep in mind that your sales price should still be reasonable relative to comparable sales in the neighborhood. I suggest you print out 3 of the highest recently sold homes and save them for your records to justify your sales price.
If you are going to do a wraparound mortgage or seller financing it is critical that you utilize an attorney and do not try to do this by yourself. Using an attorney also has the added benefit of being able to establish an escrow account for the buyer where you can give the buyer a payment that includes their property taxes and property insurance. This enables the buyer to send the payments directly to the attorney who in turn will send your portion to you and keep the remainder in escrow for taxes and insurance. Having the buyer know that you have an attorney representing you will be an added benefit.
Conclusion Creative Real Estate Investing Selling Strategies
One final thing to note is that there are currently new regulations about seller financing that might require sellers to be licensed as a mortgage broker in order to offer seller financing. There are some exemptions that apply if you are the owner of the house but the laws are constantly changing so please consult with your attorney about current Federal and State Laws before considering any creative strategies like seller financing or lease options.