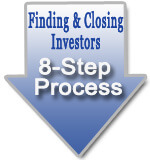 Did you find a great deal? If you can't factually support a great deal to your potential investors, then it will be hard to raise money. It's the most critical thing you need in your arsenal when approaching investors for money. With a great deal, using this 8-Step process will almost guarantee your fund raising success.
Raising money is a process and it gets easier every time you do a deal because you are planting seeds with potential investors. Some investors may not invest in your first deal, but will invest on other deals.
The best source of future equity is from your existing investors. Happy investors want to invest more, and the best part, they spread the word and bring in other investors. It's like a snowball going downhill; the longer it goes down the hill, the bigger the snowball gets. I want to help you start building your snowball.
8-Step Process to Finding and Closing Investors
I have created an 8-Step process to raising equity for your great deals that will allow you to get your snowball rolling downhill. The most important thing to stay focused on when using this system is that raising money is a process not an event. You have to stay focused on working each and every step, as outlined below.
Here is the 8-Step Process:
1. Develop a Pitch Book: Create a unique business plan and investment strategy to capitalize on today's great buying opportunity. What's your strategy to make money investing in real estate? Package your plan up in a short 6 – 8 page pitch book.
2. Develop a Potential Investor List: Make a list of potential people that may have an interest in investing in real estate. The best place to start is friends and family. This list outlines some of the best places to find investors for your list:
Business associates
Accountants who have clients who want to invest in real estate
Financial planners
Attorneys who have clients who want to invest in real estate
Real estate agents know potential investors
Insurance agents who have wealthy clients
Property owners who invest in real estate
This list will be your starting point. Make sure you ask people on your list if they know anyone else that might have an interest in investing in real estate. You'll be amazed at how many people will refer others.
3. Conduct Investor Meetings: Make breakfast or lunch meetings with people on your list. Review your pitch book during your meeting and determine if there is interest. During this meeting you are not selling anything, you are only finding out if an interest exits with your potential investor. The most important element coming out of these meetings is new relationships.
4. Build Investor Database: Potential investors who have an interest in your plan are added to your database. Your goal is to build as many potential new investors in your database. Stay in contact with potential investors in your database by sending them articles, stories, stats, and so forth relative to real estate investing and your business plan.
5. Investor Documentation: Investor documentation is created using professional assistance. Your attorney will prepare the legal documents required to approach potential investors. Don't skip this step because you are afraid to spend money. When you close on the deal, the legal fees will be paid from the partnership entity you created and raised money for.
6. Deal Fund Raising: Now that you have the proper documentation, you can approach potential investors in your database to raise money for the great deal you have uncovered. Why is it so important to find a great deal? Because potential investors will see the fantastic profit potential, taking much of the spot light off of you, the new sponsor. Also, having a great deal will get you excited, and that excitement, will show during your communication with potential investors.
Investors who are not suitable for your deal must not be accepted. Carefully review the investor documentation to make sure investors are qualified and have correctly completed the information.
7. Close the Deal: You are ready to close the deal using the funds you have raised from your investors. Investor funds should be deposited into the partnership entity. Once all the investor funds are deposited into the partnership account and ready for closing, the sponsor (you) will wire funds from the partnership account to the closing agent. When the deal closes, you should communicate to your investor that the deal closed.
8. Investor Management: Since one of the best sources of raising new equity is from exiting investors, managing and communicating with your investors is critical to your long term success. Make sure each investor gets your personal attention. They will become a great equity source for future deals.
If you find a great deal that you and your investors can get excited about and follow this 8-step process I've just outlined above, you will have much success raising money for your deals. Remember, raising money is a process not an event. Investing your time and money in the 8-step process will help you become a success at finding and closing investors for your deals. While I have only covered the surface on this 8-step process, you have the framework to put it into action.
Start small and stay focused on the 8-steps. Make it a point to begin setting up you process today.
It's never too early to begin, so get started now!