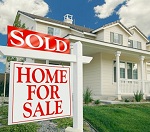 Now for the best part of flipping a house…SELLING! No doubt, one of the most exciting parts of house flipping is selling. It's the culmination of months of work and many house flipping steps. You raised the capital, you learned how to flip houses with other people's money, you rehabbed and repaired the home so it looks great and now it's time to sell.
Way back when you were first starting out in assessing the house flip, you determined the ARV and with the house done, you are ready to list it with a real estate broker. It's an exciting time. You're looking forward to cashing that big check, and cash in on all that hard work you've put in over the past three to six months. Enjoy this time! Enjoy it before you go onto the next house flip.
IMPORTANT NOTE —> ARV (After Repair Value) is a cornerstone concept for any new house flipper and we believe it is the single most important number you need to know when house flipping. ARV is the sale price you think you can get when you first did your house flipping analysis. ARV is an especially important number for you to know as it is the basis for all your work and costs associated with the house flip.
Think about it? If you don't know what you can sell a house for, it doesn't matter what you buy it for. Even if you buy a house super cheap, it does not mean it will translate into dollars and profit for you in the end.
How Does "ARV" Affect Selling Your Flip?
Your ARV you determine at the start of the project is just a benchmark for your profitability. Regardless of what that ARV is to start, what matters now is what you can sell for today. The market analysis determined by your broker is what you can sell for today.
For example, your broker tells you can sell your house flip for $200,000. Chances are that your real estate broker got the pricing from using comparative houses which have sold in your area. Now, six months after you started, the house looks very nice and you feel that the ARV you projected 6 months ago, you can get it…or maybe more. All you need now is a buyer.
So because the broker tells you the price should be $200,000, do you go out and list the house for $200,000? No way! No matter how smart you may think you are, always listen to the advice of your house flipping team. When you sell, you need to ask the advice of your house flipping team. Get their advice and ask their opinion.
Who Should Real Estate Investors List With?
In an ideal scenario, the broker you list the house for sale with is the same one which you bought it from to start. If you did promise the buying agent that you would sell the same property with her as well, you should keep your word and make sure you do actually list it with her.
Make sure you keep your word. House flipping success hinges on forging relationships with people who know, like and trust you. It proves to the real estate broker that you are a credible and honest person, which will come back to you in the end. If you did promise them the listing when you are looking to sell, then make sure you stay honest and keep your word.
IMPORTANT NOTE —> Keep your promises and be honest. Word travels fast in the local house flipping world, so keep your word and your reputation in check.
When your real estate agent does the market analysis and comps, this is vital info to determine if you will get the price you want. Chances are that you kept your eye on the market conditions so you probably have a good idea what to sell it for.
When you do get the number from your broker, it could either come in above the ARV or below it. If the price is below ARV, that's when the 70% Rule will really assist you.
Make sure safeguards are in place when you do your initial analysis to make sure you ensure against loss. This can be done by buying your house 70% below your final ARV. This number also includes the rehab costs as well. When you do this right, your house flipping profits will be safeguarded from loss. These house flipping selling tips will help you lock in your profits.