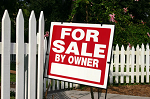 One of the longest proven successful ways to get good leads as a real estate investor is calling on For Sale by Owner (FSBO's) listed properties. In my experience, I have found great success in helping FSBO's with their situation while at the same time buying discounted real estate. If you are on a budget and just getting started then you can do this yourself, or if you can at all afford it, I highly recommend you hire someone like a virtual assistant to do it for you.
Why Are FSBO's Good Leads?
Often times homeowners who place their house on the market without a realtor ( FSBO's), are in a position where they need to sell a home quickly. When this happens, you are able to help them by closing quickly with cash, while at the same time, you receive a great discount. There are many reasons a homeowner might need to sell quickly. Some are trying to avoid getting behind on payments, some are already behind on payments, others need to immediately move to new location for job, some received a property gifted through probate, may be experiencing illness or maybe the landlord doesn't want to own a property for rent any more, etc. Whatever the specific reason a person doesn't utilize a realtor and place their property for sale on the MLS, Craigslist, Kijiji or even EBay, it is likely there is an opportunity for you to get a great wholesale deal.
Where Do You Get FSBO Leads?
The first step is to locate the properties not listed on MLS, however for sale by the owner direct. How do you do this?
1. Classified Ads Online: There are several online classifieds such as Craigslist.org or Kijiji.ca or backpage.com and many others. It's so easy to search the internet for this stuff just type "your city" properties for sale by owner; see what comes up in the Google and Bing search engines!
2. Newspaper classifieds: Checkout newspapers in the areas you would like to buy. (also often available online)
What Do You Do Once You Have The Locations For Leads?
A. Grab a copy of the FSBO magazines offered for FREE in grocery stores. These could be great leads as someone is paying a lot of money to put their house in a magazine. I view this as sign that the owner could be a motivated seller.
B. Go the websites of newspapers and look at their classified section online. You can put these links in your favorites.
C. Visit FSBO online websites. Here are a few sites I like:
Owners.com
ForSaleByOwner.com
FSBO.com
HomesByOwner.com
Trulia.com
You will want to check the FSBO sections in these resources daily. If there is a good real estate deal for sale, it will be sold quickly to the person who acts quickly – You!
What Do I Look For In A FSBO Deal?
All ads listed could be potential investments. To save time however , you want to be looking for keywords or phrases that indicate the seller has a motivation to sell or is showing signs of flexibility. Here are a few examples of keywords to watch out for:
"Must sell" "Just reduced" "For Sale Or Lease" "Seller Financing" "Fixer Upper" "Handyman Special"
Create Your Motivated Seller "Hit" List
This is a list of those you will want to contact to find out more about the property and the seller's situation. If using paper (like a newspaper in hand), you will want to mark the ads with your sharpie or highlighter as you are scanning the paper for those "motivated" words listed above. Mark as many ads as you can! It is better to have too many leads than too few. If online- – -copy and paste the ads found on newspaper, classifieds and FSBO sites to a word or excel doc, then print it out. Remember having too many leads is a good thing as it keeps your options open.