A Ten Part Series on Mistakes Real Estate Investors Make and How to Avoid Them – Conclusion
Big Investing Mistake Number Eight: Greed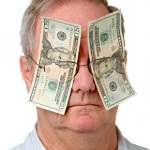 The strong desire to build wealth can be an excellent quality for a real estate investor to possess but when that quality turns to greed it can work against that goal as effectively as can inexperience. The temptation to push the boundaries of the market is a good thing as it originates from attributes like curiosity and wonderment that make up great business people. But when that boundary is pushed because you lose sight of what real value is then it can be a recipe for failure.
Listing property at an unrealistic premium is the number one factor that will delay and shrink a profit. The first thirty days of an MLS listing is by far the most crucial time in the marketing process and the actions taken during this period can mean the accumulation, or lack thereof, of major profit. Property values are inevitably determined by what a buyer will pay and not by sellers or list prices. Trust in the fact that things will sell for close to what they are truly worth to people.
Most investors find it is a far better idea to list below market value in an effort to elicit more attention and along with it multiple offers, real urgency, and at best, a bidding war. Even when presented with multiple offers to choose from it's not always the best policy to go with the highest bidder, but instead with the most qualified. If a buyer submits a contract a few thousand short of the highest bidder but has solid financing in place, or is putting down a very large down payment, then they may prove to be the best choice as they will have the best chance of actually closing.
Even though that extra few thousand may seem like a loss to an investor who has given in to greed. A rational investor knows to take less and keep moving the same way a seasoned trader knows when to sell a stock. The same principle is true for landlords. A landlord may not want to increase the rent on a seasoned tenant that has always paid on time, and will find it a good policy to offer below market discounts to tenants with good credit history.
Big Investing Mistake Number Nine: Always Being The Winner
Winning can exhilarate you, feel great, and provide a lot of motivation for whatever is next. But there are definitely times in any business when it's better to lose the battle if it means improving your chances of winning the war. The best real estate investors are long-term forward thinkers that know when to submit. There will be times that you will have a burning desire to obtain a particular property and your competition will be bidding against you, you will have to know the point in which to back down and let them have it, or you could end up the real loser when you pay too much for it.
There are other times that sellers, buyers, or contractors will blatantly default on legally binding agreements and however infuriating, the best route may be just to move on. Knowing when to put your foot down is one thing, but it's generally a good idea to avoid lawsuits at all costs, whether from you or against you. There's a good saying to live and do business by "your worst settlement is worth more than your best lawsuit." Avoiding snags that will inevitably slow down your progress and bring negative emotions into your business is imperative to your success, even if it means losing a little bit of money and having to forgo "teaching someone a lesson."
Big Investing Mistake Number Ten: Lack of Trust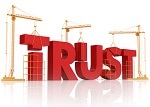 Lack of trust within business relationships can lead to a major reduction in speed and efficiency. When trust is low – costs skyrocket and production shrivels. When you have to wait for non-disclosure contracts to be signed and notarized and you can't divulge information immediately, you miss opportunities. Building a close network of contacts that you trust and can rely on is imperative if you want to expand your business beyond your personal abilities.
Trusting people can be a very challenging endeavor for many individuals involved in business and takes real courage. No one can expect everyone to be trust worthy but as long as you present yourself as someone of constant and future value then you can generally expect people to reciprocate trust. And if someone proves otherwise, you have an excuse to remove them entirely from your future dealings. The best people to do business with are the ones who understand that business is not about the deal you're working on now, but about all the deals you can do in the future years to come. High levels of trust lead to more money, less work, and much more enjoyment in what you do.
Series Conclusion – Mistakes Real Estate Investors Make
The most important step for any individual that may be looking to get started in real estate investing is proper preparation. Real Estate Investing is not like buying a CD or a bond and putting it in your bottom drawer. If you buy a home and check on it a year later it will not provide you with a small return and no headaches. On the other hand if you tend to it and can play an active role in nurturing the home it does stand to provide far greater returns on your money and opens a lot of doors to access tax benefits. Real Estate investing is not for everybody, but before you decide to turn your back on it just remember that statistics show that 80% of the millionaires in the US made their money in real estate, and the best time to get in is when everyone else is heading for the exit.