I think it's important to know the terminology and words used when learning any new business including rehabbing properties and mobile home investing. It's important to know the right terminology when talking to people in the rehab and flipping business so you're all on the same page. My goal is to share with you the "tricks of the trade" I have learned in the rehabbing mobile home business.
**** Rehabber Tricks – Stove Repair ****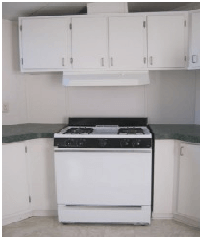 One important member of my team has been my appliance repair guy. These folks specialize in fixing appliances which can save both money and time. In many cases, I've encountered minor issues that usually get fixed by replacing a simple part and/or component – it's as easy as that. Though, when it comes to repairs and maintenance – I leave that to the experts.
For the homes I offer for sale or for rent, I make sure both the stove and refrigerator are in functioning order for the residents I work with once they move in. If not, then I do take the necessary steps to get them repaired – it's just good business.
Important Note: Some investors do not warranty any of the appliances with the homes they offer. It's definitely a personal choice. Though, I feel that taking care of certain basic appliances; such as the stove and the refrigerator; is important.
As for other appliances such as the dishwasher and washer/dryer, I do provide them (as they have usually come with the homes I've purchased) but leave it up to the residents for repair and/or handling of the maintenance issues.
Repairing the stove has been an issue that has come up from time to time. Usually, this is due to its extensive use as in any type of appliance. For the most part, I've found that many household appliances do last for quite some time – it's just the usual wear and tear (like an automobile) that causes it to need repair and maintenance.
Stove Repair 101 For Investors & Landlords
Here are two examples where I've encountered stove repair and/or maintenance was necessary to complete a deal:
Rehab House Case Study #1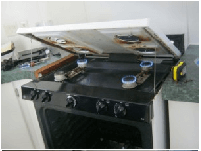 Here is a stove where we had to do some repair work. One of the burners was not working properly. Since it was a gas stove, the gas would come on for the burner needing repair but would not ignite. The residents told me they could light the burner with a match or lighter over the burner with the gas on and it would work. Upon review, I thought it best to get this item repaired as it did appear to be a major liability to the home while occupied by a tenant.
When my appliance repair guy came to take a look, he told me what needed to be replaced – the igniter. Apparently, this model is known for its burner to go out quickly with major wear and tear. So, he had to do some digging around with his suppliers to get that igniter part for that specific stove and model.
He went ahead and ordered the part – told me it would be a few days to get it in. Within days, the part arrived and he was able to replace the igniter and had the burner in working condition. The residents were happy they had a fully working stove and I left my appliance repair guy's contact info with them should they need more repair work done in the future.
Rehab Note 1 Regarding appliance repair, I only warranty them to be in working order when the residents move in. I give them a certain time frame to test everything out and let me know (in writing, of course) if there is anything not working. After that, they are responsible for any repair and/or maintenance.
Rehab House Case Study #2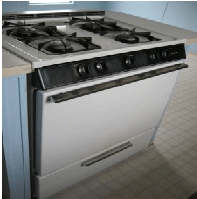 For this one, there was nothing wrong with the stove itself – it just needed to work with the type of energy the park provided which was propane. However, the stove only worked with natural gas and needed to be converted to work with propane. Again, I called my appliance repair guy and he told me it was a simple fix and just a matter of getting a conversion kit which required changing out parts.
Rehab Note 2: On this particular home, I had moved it from a park that provided natural gas to its residents – the stove was working before the purchase. It was only after the home had been moved (to a park that provides propane for its residents) where I found out it needed to convert over. As a side note, my appliance repair guy told me most gas stoves are only set up to work with natural gas. So, I may encounter this issue again when working with parks that provide propane to their residents.
Over the phone with me, my appliance repair guy went ahead and ordered the conversion kit for the stove to change it over to work with propane from natural gas. All he needed was the make and model number to order the kit.
In a few days, we had the conversion kit and my appliance repair guy was able to change it out and make the stove work. Before leaving, he made sure all the burners worked as well as the oven. Again, I left the residents with his contact information should they need appliance repair service again in the future – it was a win/win situation for everyone.
Power Rehabbing Summary
When buying a new stove for a traditional Single Family residence or Apartment always verify the type of gas/utilities that run on the property. Gas, Electric and Propane appliances are usually not compatible and you need to buy a specific one for each type of energy.
Lastly, be sure to always record the make and model numbers of all the appliances on the homes you offer. This will save you both time and money should repair issues come up in the future. On stoves, usually the make and model number is near the bottom where the drain pan is or behind the unit itself.
I hope this "Tricks of the Trade" investing article has been helpful and has given you some useful information – it definitely has for me.