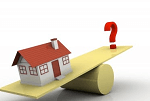 Any investor can place their money in a CD or savings account and watch while his principle remains intact but his buying power is diminished by inflation. Similarly, a speculative investor can buy junk bonds, dividend stocks or IPOs and either hit it big or watch helplessly as the investment loses value.
Alternatively, a more knowledgeable investor may recognize the potential in real estate investing but may not wish to invest the time and aggravation in managing a portfolio of properties. Trust Deed Investing offers an excellent alternative to each of these investments and provides superior security and outstanding returns in a convenient and understandable process.
First Trust Deeds – Investments that Work
The key to successful investing is having your money work for you and not the other way around. With trust deed investing, you lend money against a real estate backed loan at a discount to the actual value of the property. All the usual procedures and safeguards are included such as insurance, title searches and appraisals.
While defaults do happen, the discounted nature of the loan safeguards you to recoup your investment with a substantially discounted sales price. In addition, the capital gains accrued are actually taxed at a lower rate. In either event, your money is profitably and efficiently used to generate superior returns.
Trust deed investing is also ideal for those such as novice real estate investors, busy executives, or retirees who do not wish to actively manage a real estate property. An experienced Private Money Lender will collect payments, ensure that all insurance is up to date and facilitate all communications between the lender and the borrower.
First Trust Deed Investing 101
Investing in real estate can be a financially rewarding endeavor if one has the expertise, the resources and the time to do it properly. Less experienced or otherwise involved investors should carefully consider the advantages of trust deed investing. The benefits are many and the downside is minimal.
In short, trust deed investing offers an excellent balance between superior returns, excellent security and minimal supervision. By using an experienced and reputable Private Money Lender, you are assured of accurately portrayed deals that are secure and offer excellent yields. In short, the legwork is conducted for you and you are able to most productively deploy your investment dollars. It is, indeed, a real estate investment that truly works.