Dear Reader,
Costa Rica's Southern Zone runs South of Dominical to the border with Panama. It's an area of deserted beaches and virgin rainforest. Prices stayed low here because this area was difficult to get to.
Impossible, in fact, at certain times of year without the right type of vehicle. The drive time from San Jose (Costa Rica's capital) could take up to 10 hours. This was the type of road you had to navigate: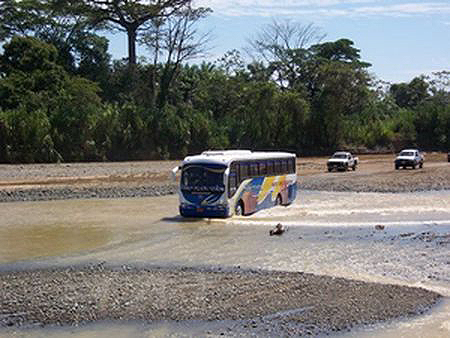 Today the drive time is down to three or four hours depending on traffic. This is the road I traveled on when I visited a few months ago: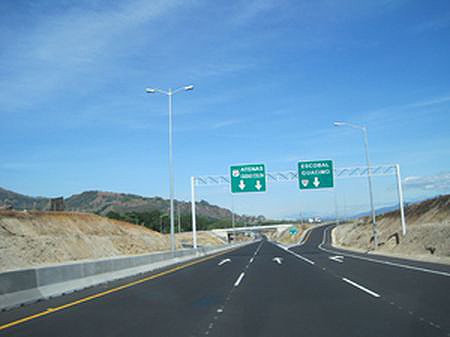 Property prices stayed low because this area was so difficult to get to. But it's now much easier to get here. And it's nicer than Costa Rica's North Pacific Coast where prices can be up to six times higher.
The Southern Zone isn't a backwater though. Local towns like Ojochal feel surprisingly cosmopolitan. You have a choice of international cuisines—French, German, Italian, Indonesian.
The baguettes from the bakery in Ojochal are sold warm, fresh and crisp. You can buy your cheese next door from the delicatessen, where the fridge is piled high and deep with cheeses from Europe's trophy cheese-producing regions. This is also the place to match wine or champagne with your cheese selection.
Ojochal has a doctor's office, a dentist's office, gas station, hardware store, Internet cafe and a supermarket. It's close to the modern Hospital de Osa, which has multiple treatment facilities, including a state-of-the-art emergency room, a pediatrics wing and a neurology center.
Ballena Marine Park (and the four beaches within it) is nearby. The best beach closest to Ojochal is Playa Pinuela, located in a pretty cove, and with little tourist traffic.
This area has been overlooked and underdeveloped. You won't find five-star hotels or luxury resorts. But you still have time to profit from this Path of Progress story.
Tourism levels look set to rise by 9% this year. Things are pretty good in Costa Rica. Moody's Investor Service last year raised the government's bond rating to investment-grade status. They based the upgrade on the fall in public debt relative to gross domestic product, and the country's ability to safely navigate the global economic crisis.
Costa Rica's GDP grew by an estimated 4.2% last year. The government aims to attract $9 billion in foreign investment to Costa Rica over the next four years. The country currently has 42 trade agreements, which helped exports increase by more than 60% in the last 10 years, to $8.67 billion.
Eco-tourism in the Southern Zone will be a big engine for growth in Costa Rica. I saw and heard about the government's commitment to this area everywhere I went. Government plans call for an international airport in the Southern Zone.
Already, the new highway has kick-started the opening of this region to mainstream tourists and second-home buyers. For example, Uvita, a small town close to Ojochal in the Southern Zone, is attracting a growing number of expats. Two years ago, the town had an ATM…in the back of an old school bus parked on concrete blocks. Today the town has three bricks-and-mortar banks. Last year, Uvita didn't have a car rental agency…today the town boasts three. You can see progress everywhere you look.
But it's only getting started. The place is starting to buzz with real estate activity. Everything points to this area exploding.
Even now, after the new road has opened, you can still buy a quarter-acre lot in Pacific Lots, the gold-standard project in the region for $40,000.
Remember what happened to real estate values in northern Costa Rica? It was tricky to get to. Liberia airport only had the occasional international flight. Drive-wise, it took around five hours to reach from San Jose on a rough, potholed road. Only diehard surfers and backpackers braved the journey. Mainstream tourists stayed away.
Then the road was resurfaced. And in 2002, regular direct flights started from Liberia airport to the U.S. Resort and residential developers snapped up the best beach and ocean-view land. In the three years after regular direct flights started, the price of prime land quadrupled.
I expect we'll see a similar trend in Costa Rica's Southern Zone. The thing is, Costa Rica's Southern Zone is nicer, and should stay that way. Environmental protections mean development will be limited and controlled. Nature will take priority here.
The tight permitting process is an important consideration. It restricts development and adds dramatically to costs. This is good for those that own here…or get in now.
The Play: The Finest Project in the Area
Pacific Lots is only a few minutes from Ojochal. It's the finest project in the area—yet $40,000 buys you a quarter-acre mountain-view lot…and $120,000 buys you a half-acre killer ocean-view lot. Compare this with northern Costa Rica, where a half-acre ocean-view lot could set you back up to $550,000.
Pacific Lots is a mature, established development, with over 150 homes already constructed. It's fully serviced with roads, water, electricity, satellite TV, Internet and a modern communications system.
There are no communal amenities at Pacific Lots. The developer made a conscious decision to keep owner HOA fees to an absolute minimum. This makes sense as Ojochal, just minutes away, has everything you could need. Of course, the main amenity is the beaches and nature that are all around.
There is no build requirement when you buy here. You have full flexibility. When you decide to build, a skilled team of professionals will be at hand to help you out. I spoke with residents I bumped into both on the property and in Ojochal's restaurants. They are as charmed by the place today as when they first arrived.
This is a place you should check out for yourself.