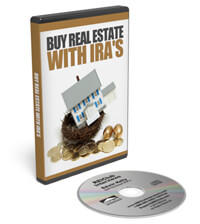 The average retired and retirement-approaching American has just about all their wealth in two places: their house and their retirement account(s) – IRA, 401(k), ect. In 2011 Retirement accounts were valued at $5 Trillion. That's a DEEP pool of money.
A good 97% of those accounts are invested in 'traditional investments'… stocks, bonds, CDs. Which means most of those accounts haven't performed very well over the last few years. And of course we know home values haven't done so well either.
The result – 'nest eggs' have been scrambled and folks NEED to generate some upside or contemplate their "Hi, Welcome to Wal Mart" future.
IRA's can invest in Real Estate and so few people know that.
Edwin Kelly was the Director of Business Development for Equity Trust, a premier self-directed IRA custodian. He also has a Real Estate license, a Series 7 license, a Series 62 license and real estate investment experience.
Edwin educates thousands of Real Estate Investors a year on how to set up a self-directed IRA and use it to invest in real estate and other 'non-traditional' investments.
Edwin will enlighten you on…