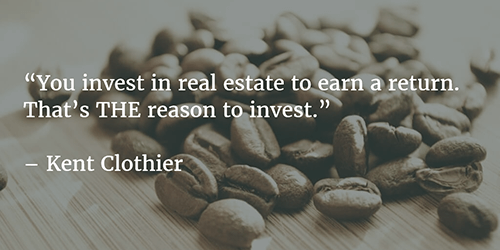 You invest in real estate to earn a return. That's THE reason to invest. If you don't expect a return, it's not an investment and you should seriously consider putting your money elsewhere. (Note: there are some exceptions to this rule – such as if you might get some other kind of non-financial return).
When assessing the kind of financial returns you should expect, there are basically two types of returns you can make on any investment:
Appreciation

, which is the rise in value between the price you bought the investment for and the price you sold the investment for.
Cash flow (or income), which is the money earned on a regular basis from your invest over a period of time.
Rental Property Model Return
To illustrate, consider what how you'd make money from owning a rental property: You'd earn the appreciation when you sell the property as the difference between your purchase price and your selling price, and you'd earn cash flow from rental income while you owned the property.
Although both types of income can tie up your capital, cash flow trickles a return back to you over time while appreciation gives you one big hit of return all at once. And usually (although not always) cash flow tends to be predictable, while appreciation isn't always as predictable.
Other Model Of Investing
There are other models of investing that are different, or are hybrid versions of what I've written above. For example:
Wholesaling

can give you a small hit of income all at once (it's a fee for selling a contract). It's predictable, like cash flow but it's a one-time-only payment, like appreciation.

Rent-To-Own

can give you a bit of both as well – cash flow while your tenants are renting, and then appreciation when they buy.

Building a team

can help you replicate your processes and turn just about any type of investing into cash flow investing if you build systems (this is what I do with wholesaling).
Which Type Of Return Is Best For You?
I can't prescribe the best kind of return that is right for you – it's really based on your lifestyle and financial goals. Start by figuring out when you need your return: Do you need a great big hit of income all at once in the future? Or, do you need a steady and predictable return? What does your lifestyle allow and how do your financial goals guide you?