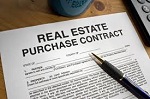 In real estate we want to control our risks, either for ourselves, or if you are a real estate agent you want to control the risks for your buyers and sellers. The best way to control risks is by having contracts and clauses that offer protection for you and your buyers and sellers. Most contracts are pretty generic. Real estate contracts are fully negotiable other than what is required by state law. You don't have to use the standard real estate contracts form provided by a Realtor. Real estate contracts need to be thoroughly written and understood by all parties involved in a real estate deal. However, if you draw up your own real estate contracts, you want to have it first reviewed by a real estate attorney.
Pricing Real Estate Contracts
The most haggled over part of real estate contracts is the price. When the seller counter offers with an unreasonable price, a good strategy is to include comparable sales with your next offer. Another good strategy is making changes in the terms and conditions of real estate contracts.The bottom line is determining what are the most important terms and conditions to the seller. Often it is the price but not always. For the seller, another important term of the sale is often the closing date. That is the date they receive the proceeds of the sale. As a buyer, one strategy you can use is a fast closing date. But sweeten the deal by including an automatic extension if the closing date can't be met for some unforeseen reason.
Real Estate Contracts – After the Inspection
All real estate contracts need to include an inspection clause. With enough experience, you may become confident enough to perform the full inspection yourself. However, most of the time, you want an impartial professional inspector. He or she won't give the home a pass or fail grade. The inspector will only tell you what problems exist with the home. Even brand new homes have small problems. Never expect a perfect report.As a buyer, something that is important after the inspection is that it opens up real estate contracts for further negotiation. Whatever is listed as a discrepancy, creates an opportunity to counter offer with a lower price. Or change any terms and conditions that you that you aren't satisfied with.
Financing Real Estate Contracts
The terms of buyer financing are often important to sellers. Even when a seller will receive 100% cash for the sale, you're better off when you can offer a large down payment. When multiple real estate contracts are on the table, the seller will consider a 20% down payment more favorably than a 1% down or a zero down offer.You can always add a special addendum to real estate contracts. These can include almost anything you want. Maybe, you ask the seller to include a home warranty or a new coat of paint or to replace the carpet. Special addendums to real estate contracts are where you can ask for almost anything you want that isn't covered in standard real estate contracts.In many states now there is a required sales contract that real estate agents must use. If this is the case you can always add addendums to that contract to include the clauses that offer you the investor, home seller or home buyer protection in your real estate investment transaction.