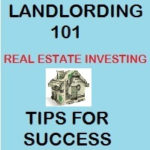 Becoming a casual landlord isn't always a good idea. By casual landlord, I mean one that hasn't studied the investment business before taking on a tenant. Often, these are people that have trouble selling their primary residence but move on to a new house and rent out the other house as a way to cover the mortgage. Or some people invest in a rental thinking it's nothing more than collecting a monthly rental check. being a Landlord is more complicated that that.
Understanding Costs is Part of How to Be a Landlord
Landlords have administrative costs that need to be accounted for. You may need to pay for a course or pay an attorney to learn your legal obligations toward tenants. It's also a good idea to have an attorney review your application and rental agreement. Laws vary from state to state and a generic rental agreement usually isn't good enough.
"How to be a landlord" means knowing how to evict a tenant that stops paying the rent. This often involves more legal fees because it is a legal process. Property management companies can be hired to do all this work but they typically charge about 10 percent of the rent every month.
Other administration costs can involve sprucing the house up to attract a quality tenant. It can involve more costly repairs to bring the house up to code. More and more municipalities are requiring inspections of rentals resulting in mandatory repairs.
Increased Insurance Costs
When the house is no longer your primary residence, you can expect your insurance costs to rise. If you fail to notify your insurance company that you have rented out the house, it may void your insurance coverage.
You may be able to collect enough rent to cover this cost. However, keep in mind that you will have occasional vacancies and insurance is one of the costs that you still have to pay during a vacancy.&nbsp Landlording means understanding and planning for all of the hidden costs.
Cleaning and Care Come With How to be a Landlord
While your renal contract will require the tenant to leave the house in the same condition that it was in when they first took occupancy, that doesn't always happen. Fortunately, security deposits help with these costs. Even with normal wear and tear, you're going to eventually need to replace carpet and paint the walls and ceilings. You need to have a reserve fund to cover these costs. Real Estate Investor Landlords should be anticipating all of these costs.
Increased Taxes Come With How to Be a landlord
How to be a landlord means understanding that taxes can be a two edged sword. On one hand, you can write off many of the expenses mentioned on your federal income tax. However, some local tax authorities might require additional taxes that you must become aware of as you learn how to be a landlord.
One of the biggest tax impacts is likely to be your loss of your capital gains tax exemption if you sell the house after not living in it for the past two years. The bottom line is you need to learn how to be a landlord once you have made an investment on a rental or cash flow property.