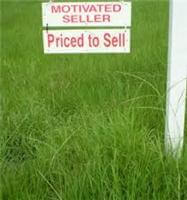 It's no secret that being a successful real estate investor means finding motivated sellers. The good news is that finding motivated sellers is easy in today's market when you know how.
Despite all of the talk and writing about how tight the real estate market is, there are still deals available. For real estate investors, finding the best deal begins and ends with finding motivated sellers willing to sell at discount prices and/or helping with financing.
Deals listed by motivated sellers typically includes houses involved with divorces, death of a relatives, job transfers, and serious financial distress. Some investors feel guilty for "taking advantage" of people in these situations but you shouldn't. The fact is, they need to sell – you are actually helping these people!
Many Ways To Find Motivated Sellers
There are many ways to find motivated sellers but one highly and overlooked method is with the old fashion bandit sign. Place these in neighborhoods where you are interested in investing and you will receive telephone calls.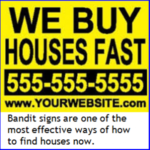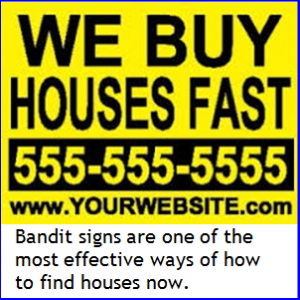 Another key method of finding motivated sellers is using craigslist ads. In this version of online classifieds, don't bother going through the ads with color photos. Instead, go straight to the small print ads. You're looking for ads that included phrases like "fix-up", "must sell", "needs work", "vacant", and of course "motivated seller". And while on craigslist, don't hesitate looking in the rental section. Disgruntled landlords will often consider selling when they are sitting on a vacancy.
However, don't just scour the ads looking for properties. Place your own ads looking for properties on craigslist and on social media, etc. You can use the same language that goes on your bandit signs – "We Buy Houses Fast".
Easy & Cheap Ways To Find Sellers Now
The list of ways of how to find motivated sellers is long. Here is a short list of easy, affordable tired and proven effective ways to find motivated sellers for your real estate investing business:
Drive neighborhoods looking for vacant houses and FSBOs.
Look for utility meters that have been tagged as disconnected.
Foreclosure notices in the legal section of newspapers.
Those with delinquent property taxes (look for tax lien auctions).
Network with professionals – real estate attorneys, accountants, estate attorneys, etc.
Magnetic signs on the back of your car – "we buy houses fast".
Offer the mailman a small finder's fee.
Doorknob hangers.
Real estate investment clubs
The list of methods of finding motivated sellers can go on and on – I've just included in this abbreviated list some of the very low cost or no cost methods.
How to Find a Seller Now and Close the Deal
It's not only about how to find a seller now. It's also about how to get the deal closed once you do find an investment grade house. A well located house in reasonable condition and priced below market will sell fast. In some markets, these houses are selling the same day they go on the market. You need to be ready to make a decision quickly when the opportunity presents itself. You need to know what you want and at what price point. Then you need to be prepared to pull the trigger on the spot.
You need to understand that no house is perfect. Not even brand new houses and certainly not deeply discounted houses. It's fine making your purchase offer contingent on an inspection. However, realize that every inspection is going to report defects. In a sellers' market, the seller isn't likely to make any repairs, especially if there is a backup offer waiting. You can't be too picky about needing to make some repairs.
Finding a "Motivated Seller" doesn't always end with your deal being accepted. If there are multiple offers, you may need to find a way to sweeten your deal without offering more money. Begin by asking what else will encourage the seller to accept the deal. Maybe it's a fast closing or maybe it's a slower closing. If you can, you can waive a financing contingency. You can also waive a seller provided house warranty. The trick is learning what will make your offer more appealing to the seller without putting in more money.