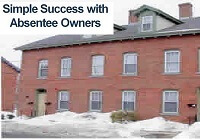 Listen, before you read any further go grab a pen and pad of paper, because this is going to be one of the most valuable articles you've ever read. You're going to learn how to dominate your local niche of absentee owners and easily make six figures a year from this group.
Now, I'm sure that you know there are several niches you can target such as absentee owners, free and clear, bankruptcy and probates. But, the one of the most profitable real estate investing niche to target is absentee owners.
What Is An Absentee Owner?
Here's several reasons why the most profitable real estate investing niche to target is Absentee Owners:
There are many statistics which show the average landlord lasts only 3-5 years. This means that there's always going to be a huge number of landlords wanting to sell their property (this large turnover means money in your pocket).
Most landlords are amateurs and have no idea what they're doing. They buy their first rental property as dollar signs dance through their head. They quickly realize they needed to treat the rental as a real business. Perhaps they didn't screen tenants very well, or perhaps they've had a vacant property for months. Whatever the reason, the rental property quickly turns into a nightmare and they want to quickly off load it to someone like you.
Since landlords don't live in the property they have very little emotional attachment to it. They didn't raise their children there and spend the last 25 years in the house. Because they're not emotionally involved it's much easier to do business with them.
As we know, during the boom several years ago, 25% of home purchases were second houses. Right now, there are hundreds of thousands of landlords who you could be assisting.
How to Locate Abensentee Owners
So, you're probably wondering how to locate and market to these landlords so you can start making money off of them? Well, my favorite way to target landlords is through direct mail (letters and postcards).
The first thing you need to do is decide what zip codes you're going to invest in. And thanks to technology you can choose to invest all over the United States using the Internet, email and fax. Once you've identified your zip codes it's time to order your list of absentee owners. The list company that I use is Melissa Data.
When you order your list you'll want to call them on the phone and have one of their representatives assist you. Don't order the list over the Internet, (you'll see why in a minute). You'll want to order the list over the phone because there are seven very important criteria you'll want to follow.
So, when you have the representative on the phone, tell him/her that you want to purchase a list of absentee owners in the following zip codes (name your zip codes) and then give them the criteria listed below:
Here's the list of 7 criteria to follow:
1. Only houses built after 1950
2. Houses over 1,000 square feet and no more than 2,500 square feet
3. Properties must be at least three bedrooms
4. Only single family houses, town houses, duplexes, triplexes and quads (absolutely no condos)
5. Houses that are at least 10 years old
6. A total assessed value of under $250,000 (you want houses on the lower end of the value for your area. In my area it happens to be
$250,000, however, in your area it might be $150,000).
7. Purchase 2,000 names. You need at least 2,000 names if you're serious about closing deals. The more names you order the better because remember this business is simply a numbers game. Obviously, the person who sends out 20,000 letters a month is going to close more deals than someone who sends out 1,000 letters a month.
Once you've ordered your list it will be emailed to you in an excel spreadsheet. Next, you need to plan your marketing campaign. With absentee owners, you're going to want to mail the list a total of eight times, sending them mail every 2.5 months. It's extremely important that you mail the list at least eight times every 2.5 months. On each mailing your response rates will go up and I know many investors who get 75% of their deals after the seventh mailing. Think about it this way: Most people don't follow up. You'll join the top 5% of real estate investors by sending out eight pieces of mail.
Part 2 of this article will cover more details about structuring your marketing campaign.