How Can You Control A Property Without Owning It?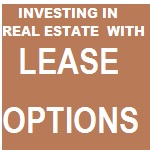 Exercising your option to purchase a property, also known as a Lease Option, is a method of controlling real estate without ownership of the actual property itself. To give an example I want to show you how Lease options are analogous to stock options, in that, when buying an option on a stock, that option gives you the option, but not the obligation, to purchase the stock at a specified date, time, or other variable in the future. That, in a very condensed version is how stock options work, and this is exactly how lease options are executed as well. Like stock options, Lease Options, are a contract between a buyer and seller, with specified terms, that allow the buyer of the option contract, to purchase the asset if they choose to, after certain terms have been reached (these could be date, price, financing, etc. or any combination of). Again it's the right, or option, not the obligation to purchase the property. This is how control, without ownership is possible.
Options In Real Estate – How Could It Work For You?
In any market, conditions are subject to change, but real estate has been a more volatile industry than most. With that said, Lease Options continue to be a viable option in stagnant, down, or up markets. There are quite a few reasons for this; In ugly markets options on real estate allow homeowners to sell their property to an investor when no one else is buying and, at the same time, gives the lease option investor the opportunity to control the more property without ownership. Often in bad markets lease options allow investors to pick up options on properties cheaply. One benefit being that when/if the market price increases for the home the investor will be able to exercise their option on the home and purchase it for the original terms agreed upon, when the home was initially optioned.
A quick hypothetical example being, Joe Schmo lease options a rental property for $50,000 in a bad market. 3 years later the market has turned around and the property is now worth $250,000, being a savvy investor Mr. Schmo exercises his option to purchase the home within the terms of the original agreement. Joe took his option and exercised it for a, before expenses, gain of $200,000. This is a simplified example of one way lease options are beneficial in an ugly market.
In Bad or Stagnant markets, lease options still have the benefit of allowing investors to control properties on the cheap, but also allow for sellers to often realize higher returns than they would have, through a traditional bank sale.
The reason being with lease options, the property cash flows at a monthly rate, that when prorated, typically exceeds a lump sum from a bank. Lease option homes allow the seller to collect a monthly income that pays off the mortgage, without having to come up with the money for the payments each month themselves. While the investor pays "a premium" i.e. the mortgage, to control the option. If the idea of paying a monthly premium doesn't sound possible, there is a no money down lease option strategy, called the sandwich lease. More on that in another article.
Example Of A Sandwich Lease Option Deal Flow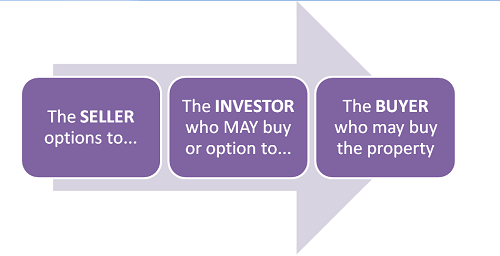 In Good markets, lease options give investors the ability to option homes that cash flow for sellers, while at the same time, set themselves up to be able to wholesale their options (flip the option, sell it to another investor) to investors that are able to pay for the property, if for example, the option was for $500,000 and the payments you, as an investor, would have to make are not possible, then you can pocket quick cash wholesaling your option.