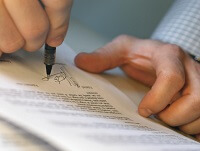 Short Sales and Foreclosure real estate investing deals require investors to work with homeowners, direclty Banks, REO agents or special foreclosure listing agents/brokers. Most real estate investors dealing with short sales find themselves at the end of a long paper work and negotiation process with institutional lenders.
Investor John Smith finds a deal in good neighborhood using "motivated seller" search in the comments of MLS listings. After contacting the homeowners and sitting down with them he uncovers that the house in now 3 months into foreclosure. The property is in decent shape, the homeowners have some equity and the current value of the home is greater then the loan amount and balance.
He will now need to deal directly with the bank or the reo agent assigned to the property to make an offer.
Here is an great example of the type of "Cover Letter and Offer Letter to Bank" that a real estate investor should use to get the deal going.
Short Payoff Offer & Proposal Letter
Date:
To: [ENTER REP HERE]
Lender: [ENTER LENDER HERE]
Borrower: [BORROWER NAME HERE]
Property Address: [PROPERTY ADDRESS HERE]
Reference Loan Number: [LOAN REF NUM HERE]
*** NET AMOUNT OF SHORT SALE OFFER TO [LENDER HERE] $[LOAN AMOUNT HERE] ***
Dear [REP HERE]:
We are submitting for your review and subsequent approval, this comprehensive SHORT SALE SUMMARY PACKAGE pursuant to our recent telephone conversation regarding the possibility of a discounted payoff on the aforementioned defaulted mortgage loan.
We are working very closely with your Borrower to facilitate a sale of the above referenced property. We have in fact entered into a purchase and sale contract (attached). I represent the and my clients are seeking to buy the property without the need for a mortgage contingency and subject only to your approval of this short sale proposal. Inspections have been completed. This sale requires and is contingent upon your approval of the short sale offer
Subsequent to our short sale package being approved by a foreclosing lender, we can close very quickly. We guarantee a closing of the transaction within 5-10 days of acceptance of our offer.
We have been given complete authorization by the Borrower to discuss the mortgage loan that is presently in default that you are seeking to foreclose. We have again included a signed Letter of Authorization executed by the Borrower, which has been previously faxed to you
Our offer is [OFFER AMOUNT] which will net your bank [NET AMOUNT] after all closing costs and expenses which you can see on the Estimated HUD Statement attached hereto.
We understand that in order for our offered to be accepted that there may be additional due diligence which may need to be completed. Should a second Broker's Price Opinion (BPO) be necessary, or if one has never been completed, we urge you to have one completed and as we have control of the property we would like to meet with your representative to ensure a proper assessment of the scope of repairs of the subject property and a true and accurate appraisal of the estimated "AS-IS" value of the subject property.
In order to obtain the most accurate valuation, it is our belief that it is imperative that the interior of the house be viewed and that the BPO not be limited to a cursory drive-by viewing or desktop appraisal or automated valuation. We can provide interior access to the house to your representative and will meet with your representative with 48 hours notice.
As an auction date is pending in the very near future, we believe TIME IS OF THE ESSENCE in resolving this matter. We are prepared to close this transaction within 5-10 business days from receiving written notification of your acceptance of this offer or our acceptance of any counter offer that you may make in response to our offer.
If you have any questions, please do not hesitate to contact us as necessary as we stand ready to facilitate and expediting a short sale payoff on the aforementioned loan.
Sincerely,
Your Name
Name
Real Estate Office
Address
City, State Zip Code
Direct Phone:
Direct Fax:
Email:
The following form is offered for the convenience of investors. Please note that this form should not be used as a substitute for a lawyer and that the form should be used only with the understanding that they are in no way, whether expressed or implied, to serve as a contract or as legal advice.