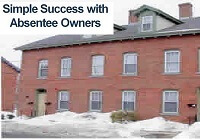 How to locate landlords was covered in Part 1. In Part 2, we will review how to send and market to landlords.
Now, you need to know what to mail these landlords right? Well, do a combination of letters and postcards. The first time send a letter, the second time a postcard, the third time a letter etc. (you get the point).
Before you run off and just use any letter or postcard, you need to have marketing materials that work. Both your letters and postcards need to have powerful headlines that grab your prospects attention!
Here Are Some Of The Headlines From My Postcards And Letters:
"Would you like to learn how to eliminate tenant problems forever?"
"Are Your Tenants In (city) Giving You A Headache? Here Is Your Prescription For Eliminating Tenant Hassles Forever!"
"Sell Your Rental Property In (city) And Close In 30 Days Or Less!"
After you have a headline that is going to get your readers attention, make sure that in the body of the mail piece, you list all of the benefits or working with you.
Here's Some "Benefits Of Working With You" Examples:
"You can eliminate tenant hassles forever…"
"You're not a Realtor and don't charge any fees or commissions…"
"You'll buy their house "as-is"…"
"You'll close on the date of their choice…"
"You'll buy the property whether it's tenant occupied or vacant…"
One of the most important parts of a direct mail piece is to give a reason for your prospect to respond. This can be a free special report or free audio CD. Personally, I prefer the free special report.
The Free Special Report That I Offer People Are:
"The 5 Little Known Ways to Eliminate Tenant Hassles Forever!"
"How to Sell Your House in 11 Days, Regardless of Your Current Financial Situation"
"The Five Biggest Mistakes You Can Make When Selling Your House To A Real Estate Investor And How To Avoid Them"
Don't mail a letter or a postcard if it doesn't have a strong headline, lists the benefits of working with you and offers people something free when they respond.
Alright, so you have your lists, you have your direct mail piece and it's time to send it out. So, how do you get your direct mail in landlords' mailboxes without licking thousands of stamps and driving yourself crazy? Use www.click2mail.com. You can upload your postcards and letters in just a few minutes and you're done.
Remember, you want to be able to spend your time the way you want, so automate everything you can. When it comes to postcards, use the large, yellow card.
In this brief article, I've given you enough information to start profiting from landlords within the next 30 days. As always, remember the key to success is implementation (an idea without action is worthless).